Specifications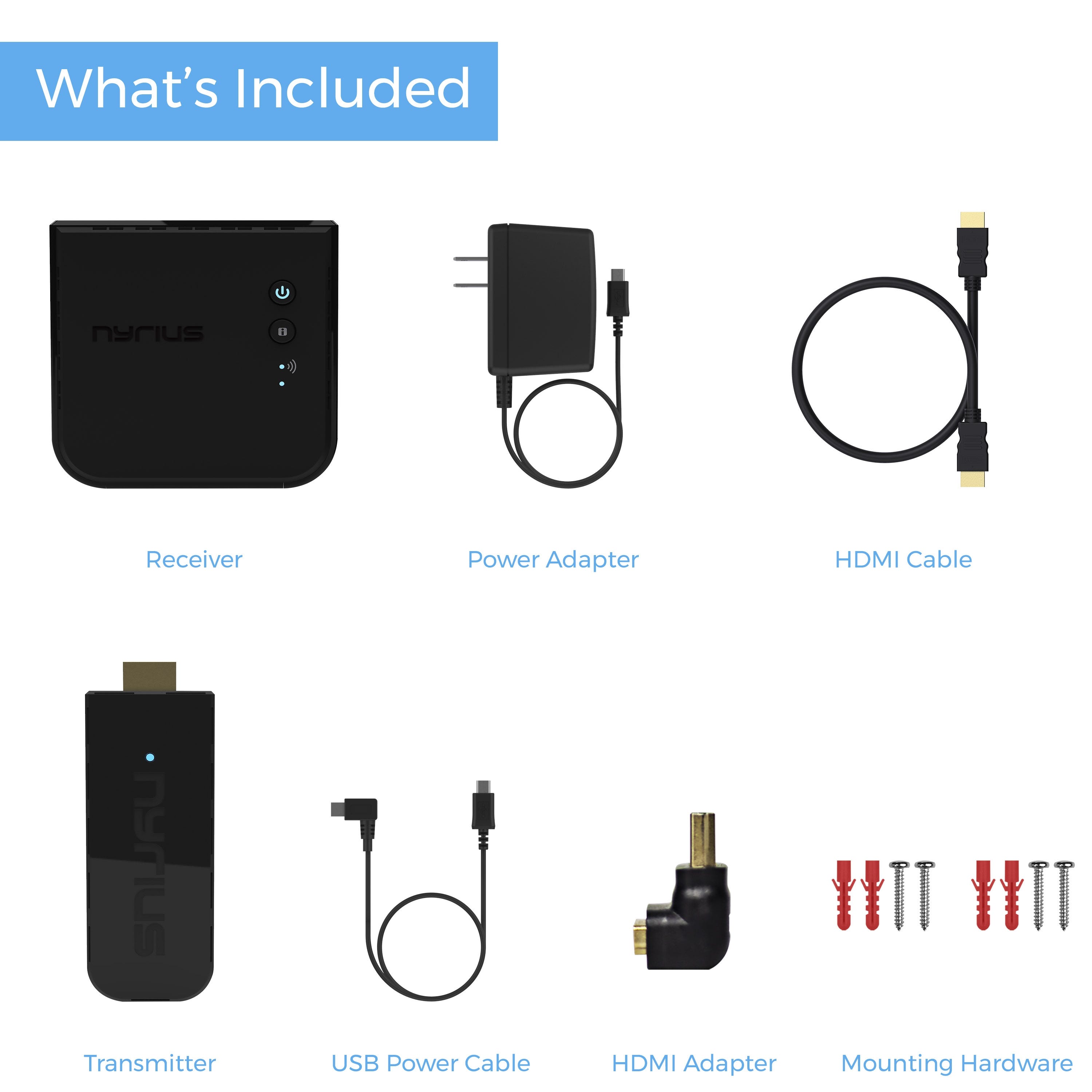 Supported Video Resolution
TV: 1080p, 1080i,720p, 576p, 480p PC: 1024x768, 1280x1024, 640x480, 800x600 (Not 4K)
3D COMPATIBLE
Yes
Audio Formats Supported
Uncompressed 7.1 PCM , DTS , Dolby Digital Surround Sound
Video Formats Supported
TV: 1080p, 1080i,720p, 576p, 480p PC : 1024x768, 1280x1024, 640x480, 800x600
Ports & Interfaces
HDMI, Mini-USB
Wireless Range
30 feet open space (clear line of sight)
Transmission Frequency
4.9~ 5.9GHz (with Dynamic Frequency Selecting (DFS))
System Latency
≤1 ms
Wireless Technology
ARIES Technology
Environmental Requirements
Operating temperature: 0° to 40° C Storage temperature -10 ℃ ~ +55° C Relative humidity: 15 ~ 80% RH
Display Compatibility
TV: 1080p, 1080i,720p, 576p, 480p PC : 1024x768, 1280x1024, 640x480, 800x600
Wall Mountable
Receiver Yes
Remote Control
No
Power Input
Receiver: 100-240VAC/50-60Hz (Wall Adapter)
Transmitter: USB
Power Output
Receiver: 5VDC, 1.5A
Transmitter: 5VDC, 1.5A
Transmitter Dimensions
3.24 x 1.18 x 0.69 inches / 82.3 x 30.0 x 17.5 mm (LxWxH)
Multiple Transmitters
No
Receiver Dimensions
3.7 x 3.8 x 1.1 inches / 94.0 x 20.3 x 27.9 mm (LxWxH)
Multiple Receivers
No
Adapter Compatibility
Nyrius does not recommend using Digital to Analog Adapters with our ARIES Products, however HDMI to miniHDMI/microHDMI adapters are compatible
System Requirements
Any laptop or desktop system containing an HDMI port including popular models from these manufacturers: Alienware, Lenovo, Dell, HP, Acer, Apple (Display Port cable not included)
Standard Protocol
HDMI 1.3, HDCP 1.2
Bandwidth
40 MHz
TX/RX Channel
1 RX / 1 TX
Certifications
FCC/ICE, CUL/UL
UPC
871363023865
What's Included
Wireless HDMI Transmitter
Wireless HDMI Receiver
5ft 100-240V AC Power Adapter for Receiver
MiniUSB Power Cable for Transmitter
5 ft HDMI Cable
Right Angle Adapter
Quick Start Guide
Instruction Manual
1 Year Warranty
Lifetime Customer Support
Press

Techaeris Reviews the Nyrius Aries Prime Wireless HDMI Transmitter
"From my tests, the Aries Prime Wireless HD Transmitter/Receiver works great. I had no issues with streaming full HD content from my laptop to my LG HDTV, an ASUS HDMI monitor, and even my Epson projector through my AV receiver. There was no lag that I noticed while testing out gaming either – including streaming my Xbox One to my Windows 10 laptop and transmitting the signal through the Aries Prime to a TV."
Read the Full Review

Home Theater Shack Reviews the Nyrius Aries Prime Wireless HDMI Transmitter
"I find the ARIES Prime to be a very good balance of convenience and performance. For anyone in search of a simple solution to a potential wiring nightmare, I can recommend the Nyrius thanks to its ease of use and reliability."
Read the Full Review
Customer Reviews
Adam O

December 14, 2022

Open room, less than 15 feet from pc to tv. Got horrible audio with choppy image.

Adam O

1

BRUCE

November 7, 2022

Superb HDMI transmission of audio & video from my FIOS set top box to my kitchen TV. You can download all three available manuals from the WEB. Technically a great product with outstanding performance.

BRUCE

5

rodger k

September 17, 2022

Texas, United States

when it works, great product but I am on on my 5th one in 3 years. last 4 not one of them lasted a full year. yeah I'm a glutton for punishment buy one after another but as I said, when it works it great.
Sent and email about my concerns on the last 4. Got a response to get a Fan to kept it cooler oh and not over 50 ft from laptop to TV (mine is 15 ft away. I give them credit though they replied fast just nothing worthwhile in their email.
Should I have taken out the extended warranty? Yep I should have but with each of the other 4 I thought this one will last longer than the other one. I was wrong and now $1000 in spent the extra 22 bucks for the warranty

rodger k

5

Thomas W.

August 19, 2022

California, United States

Did not work. I could see the letters "HDMI CH7" in an intermittent pattern on the screen but I could not see any video - and I tried many various methods to get the video to the screen but to no avail.

It became more difficult than the problem I was trying to solve. I don't like to struggle with technology. It should be seamless and immediate.

I'll return it when I get home today.

Thomas W.

1

Turtle S

July 31, 2022

Ordered a new unit; last one beginning to cause trouble after 5 years. Connected system (to iPad) and got no signal on screen. Tried several maneuvers to try to get system to work - no success. Was about to return the unit as "DOA" but messed with the connectors. I had ordered and received 3 connectors USB-C to HDMI. Turns out, 2 of the 3 connectors are nonfunctional. Using the one good connector, the Nyrius system works fine. Glad I did not make a fuss and send it back.

Turtle S

4

Patrick H

July 2, 2022

Recently relocated my AV equipment into another room and rather than running HDMI through my walls I opted to try this out. It connected immediately and ran perfect, with no noticeable lag. Unfortunately after finalizing my mounting, I started to realize that the receiver runs extremely hot and is significantly affected by temperature, causing artifacts on the screen. Any mounting of the receiver on any hard surface (vertically) doesn't seem to give enough air flow. Back of the TV, wall, etc, all cause issues.I'll have to figure out some other method to mount it, but be warned.

Patrick H

3

Henry

May 8, 2022

I'm going to give them the benefit of the doubt here. Maybe the receiver is too close to my wireless router (10 feet or so). Maybe my wireless VR headset (HTC vive) is interfering. I don't know, but I do know I tried this on several computers and it's extremely unstable. The video feed flashes in and out. My TV stops detecting the HDMI device on and off. My computers stops detecting the device on and off. It's like I'm at the computer plugging and unplugging a new monitor and also at the television plugging and unplugging the HDMI source.For reference both devices are in the same room. I got an close as a few feet between transmitter and receiver; and as far as 30ish feet. Same result at any distance. No change with unobstructed line of sight between the two either.It just doesn't work in my house. Maybe I got a faulty set?

Henry

1

Duncan G

April 8, 2022

I use this to connect my gaming PC to my 50" TV in the living room about 10 feet away. This dongle does not need line of sight to opperate. Occasionally I will get a slight graphical glitch (once every 2 or 3 sessions) but I think it has to do with overheating, which leads me to the most important point: Unplug the power when not in use! My smart TV automatically turns on the reciever and leaves it on while watching TV, which was overheating it when not in use.

Duncan G

4

Pathfinder

April 4, 2022

Connected this from my TV that's installed over a fireplace to my A/V receiver which is about 6' away and it works perfectly. Initially I had the receiver (the part that's connected to the TV) connected to USB power on the TV. I had to reset the connection each time I turned on the TV. Now, after trialing for a few days, I connected it to the power outlet and that issue has gone away. The transmitter is also plugged to permanent power using an iphone charger plugged into the wall.I permanently mounted the receiver behind the TV and noticed some interference. After disabling the TV WiFi the interference went away. My Apple TV is connected directly to the network via CAT 5 cable.Hope this helps for anyone looking for a solution that avoids tearing up the drywall to run an HDMI cable.

Pathfinder

5

Nathan C

February 8, 2022

We had 12 of these and after 2 years they all started to not connect.

Nathan C

2

Kt

January 7, 2022

The unit fails to connect the majority of the time and is temperamental

Kt

1

Abdulaziz S

January 6, 2022

Ordered it because I had installed another in for my Conference Room and it resolved all the issues with being cabled. Picture quality, sound all transmitted seamlessly.

Abdulaziz S

5

etemp

January 4, 2022

Best wireless HDMI out there. Good range. Good size. Spend the money and do it right

etemp

5

Jason R

November 5, 2021

Kansas, United States

There are better and more reliable options. We own three of these units in a small conference room and just went back to an HDMI cable. These would stop working, become unpaired, flicker or stop transmitting all the time. The pairing process is painful and the documentation online is outdated and does not fully match the product.

Jason R

1

Sam J

September 24, 2021

Nova Scotia, Canada

I've had the prime for around 7 years now and it still works fine. It is zero latency so that is true as advertised but it's completely false that it can transmit up to 30 feet. Anything over 15 feet it starts to drop out and you get Minecraft or Mario-like boxes all over the screen. Other than the fact the distance is less than advertised it's great.

See all reviews

Sam J

3
Resources
Guides
FAQs
Can I use this with more than one TV or Monitor?

Aries Prime is designed primarily for use with a computer. If you have another monitor connected already, this can be used with the extend feature to act as a wireless second monitor. It can also be used to duplicate the display of that display on another monitor or TV or make your main display wireless.

 Aries Prime does not offer the option of multiple receivers for sending video to multiple displays.


What can I use Aries Prime with?

Aries Prime makes a great same room wireless HD solution. You can send video from sources such as Laptops, PCs and gaming consoles up to 30 feet away, with zero latency!


What is Latency?

Also known as input lag, Nyrius Aries Wireless HD transmitters and receivers are considered Zero Latency. This means if you're using a computer and move your mouse, there is no delay. This makes Aries product great for presentations and gaming!


How does the Aries Prime transmitter get power?

Aries Prime includes a transmitter and receiver. The receiver includes a power adapter to be connected to a wall outlet. To keep your transmitter portable, it's powered by USB from the source device or in some cases an external power pack may be necessary if a USB power connection is not available. The transmitter must be connected to both USB and HDMI to transmit.


Does the transmitter connect to USB or HDMI?

Nyrius Aries Prime requires both a USB and HDMI connection, USB for power and HDMI for video. This allows the transmitter to act as an invisible HDMI cable with no USB drivers required!


Articles from our experts