Specifications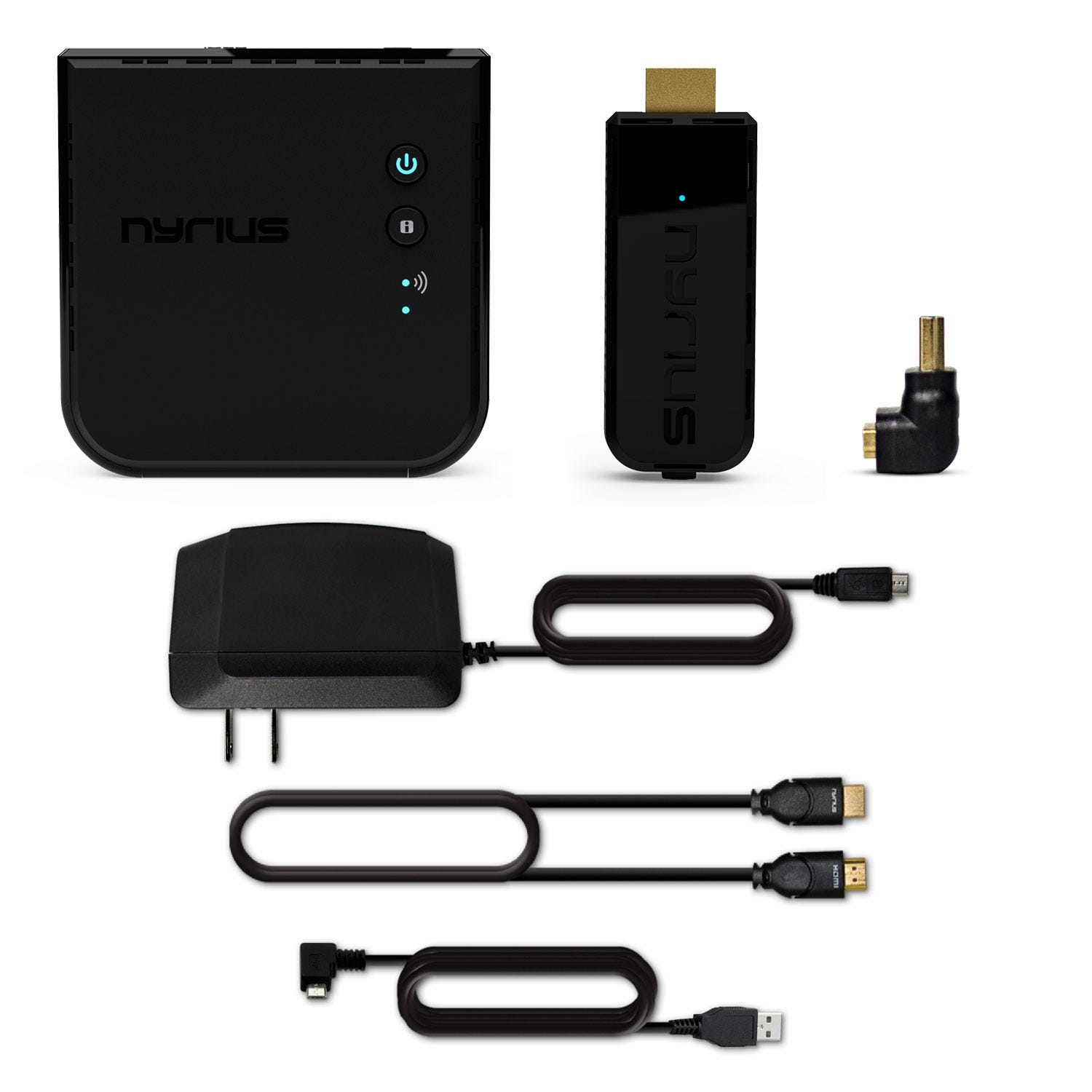 Supported Video Resolution
TV: 1080p, 1080i,720p, 576p, 480p PC : 1024x768, 1280x1024, 640x480, 800x600
3D COMPATIBLE
Yes
Audio Formats Supported
Uncompressed 7.1 PCM , DTS , Dolby Digital Surround Sound
Video Formats Supported
TV: 1080p, 1080i,720p, 576p, 480p PC : 1024x768, 1280x1024, 640x480, 800x600
Ports & Interfaces
HDMI, Mini-USB
Wireless Range
30 feet open space (clear line of sight)
Transmission Frequency
4.9~ 5.9GHz (with Dynamic Frequency Selecting (DFS))
System Latency
%E2%89%A41 ms
Wireless Technology
ARIES Technology
Environmental Requirements
Operating temperature: 0%C2%B0 to 40%C2%B0 C Storage temperature -10 %E2%84%83 ~ +55%C2%B0 C Relative humidity: 15 ~ 80% RH
Display Compatibility
TV: 1080p, 1080i,720p, 576p, 480p PC : 1024x768, 1280x1024, 640x480, 800x600
Wall Mountable
Receiver Yes
Remote Control
No
Power Input
Receiver: 100-240VAC/50-60Hz (Wall Adapter)
Transmitter: USB
Power Output
Receiver: 5VDC, 1.5A
Transmitter: 5VDC, 1.5A
Transmitter Dimensions
3.24 x 1.18 x 0.69 inches / 82.3 x 30.0 x 17.5 mm (LxWxH)
Multiple Transmitters
No
Receiver Dimensions
3.7 x 3.8 x 1.1 inches / 94.0 x 20.3 x 27.9 mm (LxWxH)
Multiple Receivers
No
Adapter Compatibility
Nyrius does not recommend using Digital to Analog Adapters with our ARIES Products, however HDMI to miniHDMI/microHDMI adapters are compatible
System Requirements
Any laptop or desktop system containing an HDMI port including popular models from these manufacturers: Alienware, Lenovo, Dell, HP, Acer, Apple (Display Port cable not included)
Standard Protocol
HDMI 1.3, HDCP 1.2
Bandwidth
40 MHz
TX/RX Channel
1 RX / 1 TX
Certifications
FCC/ICE, CUL/UL
UPC
871363023865
What's Included
Wireless HDMI Transmitter
Wireless HDMI Receiver
100-240V AC Power Adapter for Receiver
MiniUSB Power Cable for Transmitter
5 ft HDMI Cable
Right Angle Adapter
Quick Start Guide
Instruction Manual
1 Year Warranty
Lifetime Customer Support
Press

Techaeris Reviews the Nyrius Aries Prime Wireless HDMI Transmitter
"From my tests, the Aries Prime Wireless HD Transmitter/Receiver works great. I had no issues with streaming full HD content from my laptop to my LG HDTV, an ASUS HDMI monitor, and even my Epson projector through my AV receiver. There was no lag that I noticed while testing out gaming either – including streaming my Xbox One to my Windows 10 laptop and transmitting the signal through the Aries Prime to a TV."
Read the Full Review

Home Theater Shack Reviews the Nyrius Aries Prime Wireless HDMI Transmitter
"I find the ARIES Prime to be a very good balance of convenience and performance. For anyone in search of a simple solution to a potential wiring nightmare, I can recommend the Nyrius thanks to its ease of use and reliability."
Read the Full Review
Customer Reviews
Rafael R

March 17, 2020

Florida, United States

We recently purchased this unit for our Conf Room here at the office and it has worked well the handful of times we have used it. Our Conf Room is only 20ft deep so there was no need to get the Pro version.

I tested with my PC laptop and had no issues. My boss tested with his 2019 MacBook and it work as well; he needed to get a USB-C to HDMI adapter that also had a standard USB connection to power the unit itself.

No lag and video looked very good! It was recommended by the guys at Unbox Therapy on YouTube so I had to give it a shot and I'm very happy we did.

Rafael R

5

Greg J

March 12, 2020

Kansas, United States

We could not get the product to lock a signal from our Macbook Pro to the projector. When we called Support, they said we couldn't make the connection from the HDMI to mini display port-- that the Aries Prime would only work with a Mac that has an HDMI port. Funny, it works with every other type projector device...

Greg J

1

Bruce H.

December 26, 2019

Alaska, United States

Great product, price and delivery
This Nyrius Aries Prime Transmitter and Receiver is a no-brainer. I received it on time and took it out of its box, attached transmitter/HDMI to my iPhone and receiver/HDMI to my tv. Chose the HDMI source on my tv, turned on the receiver, then the transmitter and got immediate results. I've had virtually no problems with signal or lag in about 12 hours of use. My units are about 10' apart and I'm viewing on a recent model LG tv.
Full endorsement and recommendation.

Bruce H.

5

Dan T

September 25, 2019

This unit worked okay for a while but then the unit started to overheat and then would constantly lose connection. Would unplug both the transmitter and unit itself to let cool down. Plug it all back in and it would work again until it got to hot.This company should really figure out what the deal is with this unit to make sure it's consumer safe and doesn't pose a fire/safety risk.The transmitter and unit sit approximate 8 feet apart with nothing in the way, obstructing it's data transmittal.

Dan T

1

Stephen McDonald

September 23, 2019

Texas, United States

The product seems to work so far, but there is a 10-15 second delay every time I select the HDMI input on a projector or video screen. I bought this product as alternative to having to run cable, I expected an immediate connection, but that has not been the case. 15 seconds can be a long time to stand and wait for your presentation to come up if everyone is looking at you and waiting for you to start.

Stephen McDonald

3

popwin

September 18, 2019

after 5mins of using it, an annoying radio icon will show up on TV screen. spent 2 days with different methods and followed manual for preventing interference and shorten the distance.. however the icon will just show up no matter what. Contacted with their tech support and was told to press the info button. but again, it only works for 5mins, after 5mins problem shows up again. I thought I bought the best option available, now it turns into biggest nightmare........

popwin

1

victoria r

September 9, 2019

It worked fine then started having issues. It will go to a static display occasionally. I don't know why. I have to turn my theater system off and back on in order for it to reset. Has anyone else had this issue?

victoria r

2

CHiara

September 4, 2019

I was weary because of reviews about interference, but we haven't experienced any except when the pet sits on the playstation that it's connected to. We live in a metropolitan area and a condo with units on all sides and no trouble.

CHiara

5

Linda

August 26, 2019

These are so great and have made presenting so much easier at our company. They were so easy to install and use.

Linda

5

Michael W

August 22, 2019

I used it in our RV for the mid TV. It works great. The HDMI cable went bad. I am a happy camper!

Michael W

5

Charles M

August 16, 2019

I like the idea of the product, not the electronic quality. Other forums complain about product failures. My purchase is no different. Still waiting for Nyrius response to replacement question.

Charles M

4

Doug- P

August 15, 2019

The Nyrius Aries Prime Wireless Video HDMI Transmitter & Receiver works as I expected it to.I don't know how 'Remote Control' would apply and I didn't use Tech Support.Set up ( from Nyrius standpoint) was simple. However, figuring out how to get my PC settings to work with the transmitter was a chore.

Doug- P

5

Danny H

August 2, 2019

Iowa, United States

The theory behind this device is a good one, however a main selling point is that it eliminates the eyesore of wires/cables running up your wall. However, the need for a power cable to plug into your wall socket kind of defeats the purpose. You're almost better off buying a mounting kit and running your cables behind the wall. That way you don't have to rely on wireless technology and you're cables will still be hidden. Good idea though.

Danny H

3

D. K

July 30, 2019

Not a reliable system not much else to say. It would work one day and not the next; no need to write an analyst or tech review.

D. K

2

Oaktree

July 23, 2019

Used it to feed my PC screen from the living room to my bedroom for those Netflix sessions in bed

See all reviews

Oaktree

5
Resources
Guides
FAQs
Can I use this with more than one TV or Monitor? ▼

Aries Prime is designed primarily for use with a computer. If you have another monitor connected already, this can be used with the extend feature to act as a wireless second monitor. It can also be used to duplicate the display of that display on another monitor or TV or make your main display wireless.

 Aries Prime does not offer the option of multiple receivers for sending video to multiple displays.


What can I use Aries Prime with? ▼

Aries Prime makes a great same room wireless HD solution. You can send video from sources such as Laptops, PCs and gaming consoles up to 30 feet away, with zero latency!


What is Latency? ▼

Also known as input lag, Nyrius Aries Wireless HD transmitters and receivers are considered Zero Latency. This means if you're using a computer and move your mouse, there is no delay. This makes Aries product great for presentations and gaming!


How does the Aries Prime transmitter get power? ▼

Aries Prime includes a transmitter and receiver. The receiver includes a power adapter to be connected to a wall outlet. To keep your transmitter portable, it's powered by USB from the source device or in some cases an external power pack may be necessary if a USB power connection is not available. The transmitter must be connected to both USB and HDMI to transmit.


Does the transmitter connect to USB or HDMI? ▼

Nyrius Aries Prime requires both a USB and HDMI connection, USB for power and HDMI for video. This allows the transmitter to act as an invisible HDMI cable with no USB drivers required!


Articles from our experts