Specifications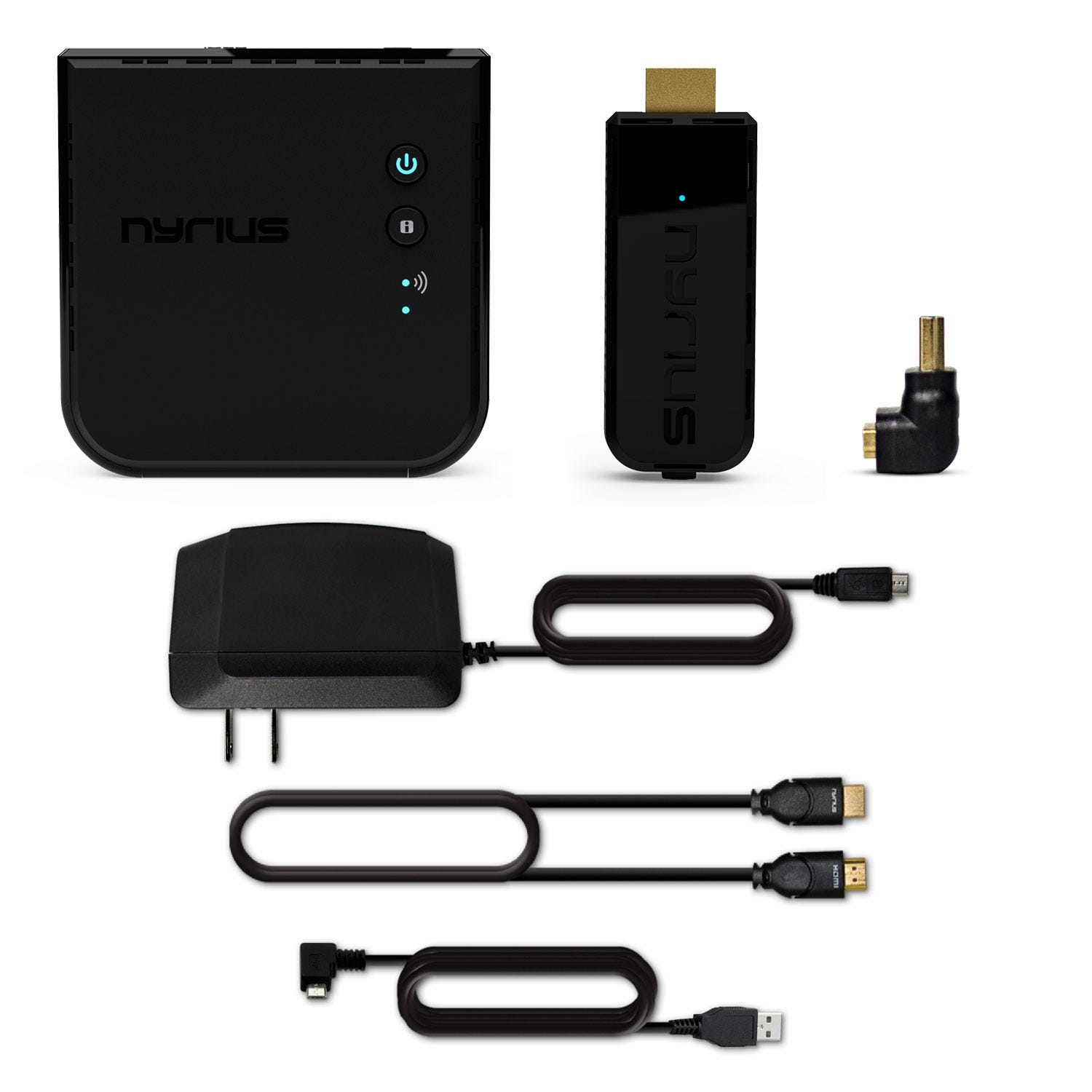 Supported Video Resolution
TV: 1080p, 1080i,720p, 576p, 480p PC : 1024x768, 1280x1024, 640x480, 800x600
3D COMPATIBLE
Yes
Audio Formats Supported
Uncompressed 7.1 PCM , DTS , Dolby Digital Surround Sound
Video Formats Supported
TV: 1080p, 1080i,720p, 576p, 480p PC : 1024x768, 1280x1024, 640x480, 800x600
Ports & Interfaces
HDMI, Mini-USB
Wireless Range
30 feet open space (clear line of sight)
Transmission Frequency
4.9~ 5.9GHz (with Dynamic Frequency Selecting (DFS))
System Latency
≤1 ms
Wireless Technology
GigaXtreme Technology
Environmental Requirements
Operating temperature: 0° to 40° C Storage temperature -10 ℃ ~ +55° C Relative humidity: 15 ~ 80% RH
Display Compatibility
TV: 1080p, 1080i,720p, 576p, 480p PC : 1024x768, 1280x1024, 640x480, 800x600
Wall Mountable
Receiver Yes
Remote Control
No
Power Input
Receiver: 100-240VAC/50-60Hz (Wall Adapter)
Transmitter: USB
Power Output
Receiver: 5VDC, 1.5A
Transmitter: 5VDC, 1.5A
Transmitter Dimensions
3.24 x 1.18 x 0.69 inches (LxWxH)
Multiple Transmitters
No
Receiver Dimensions
5.8 x 7.69 x 1.22 inches (LxWxH)
Multiple Receivers
No
Adapter Compatibility
Nyrius does not recommend using Digital to Analog Adapters with our ARIES Products, however HDMI to miniHDMI/microHDMI adapters are compatible
System Requirements
Any laptop or desktop system containing an HDMI port including popular models from these manufacturers: Alienware, Lenovo, Dell, HP, Acer, Apple (Display Port cable not included)
Standard Protocol
HDMI 1.3, HDCP 1.2
Bandwidth
40 MHz
TX/RX Channel
1 RX / 1 TX
Certifications
FCC/ICE, CUL/UL
UPC
871363023865
What's Included
Wireless HDMI Transmitter
Wireless HDMI Receiver
100-240V AC Power Adapter for Receiver
MiniUSB Power Cable for Transmitter
5 ft HDMI Cable
Right Angle Adapter
Quick Start Guide
Instruction Manual
1 Year Warranty
Lifetime Customer Support
Pro Reviews

Techaeris Reviews the Nyrius Aries Prime Wireless HDMI Transmitter
"From my tests, the Aries Prime Wireless HD Transmitter/Receiver works great. I had no issues with streaming full HD content from my laptop to my LG HDTV, an ASUS HDMI monitor, and even my Epson projector through my AV receiver. There was no lag that I noticed while testing out gaming either – including streaming my Xbox One to my Windows 10 laptop and transmitting the signal through the Aries Prime to a TV."
Read the Full Review

Home Theater Shack Reviews the Nyrius Aries Prime Wireless HDMI Transmitter
"I find the ARIES Prime to be a very good balance of convenience and performance. For anyone in search of a simple solution to a potential wiring nightmare, I can recommend the Nyrius thanks to its ease of use and reliability."
Read the Full Review
Customer Reviews
John C

April 5, 2019

Ohio, United States

-------- Forwarded Message --------
Subject: Thank you for reviewing Nyrius Aries Prime Wireless... on Amazon
Date: Fri, 5 Apr 2019 02:13:59 +0000
From: Amazon Reviews <[email protected]>
To: [email protected]


Amazon


Thanks Mr John D Cremer IV,

Your latest customer review is live on Amazon. We and millions of shoppers on Amazon appreciate the time you took to share your experience with this item.
Nyrius Aries Prime Wireless Video HDMI Transmitter & Receiver for Streaming HD 1080p 3D Video & Digital Audio from Laptop, PC, Cable, Netflix, YouTube, PS4, Xbox One to HDTV/Projector (NPCS549) ★★★★★ from Amazon Customer on April 1, 2019

Does exactly what it says it does.

I use it to send HDMI Video/audio from my MacBook Pro to my big screen TV. Plug and play easy, great picture and no discernable lag time. A little more expensive than other setups, but seems well worth the investment. Ratings on Amazon and comments seem to support...

See your full review

Wes Mapes

January 12, 2019

Texas, United States

Excellent product, love it.

Vishal, Varma

November 19, 2018

Quebec, Canada

I purchased this product directly from the seller website. This is a high quality product. I have been using it since 7 months and so far no issues. Easy to connect and and can see 1080p videos lossfree. Best part is - there is absolutely no timelag. I saw someone say that the picture comes out grainy - but that is not the case for me. I am using it to connect my Dell Insprion (2012) laptop to a 24" LED TV and use it continuous for 12-14 hours daily. Product heats up on use, but nothing extreme. The laptop connector has been designed to withstand heat and has proper ventilation vents. Wish it was a bit cheaper to get it within the affordability range.

Neil P

October 28, 2018

Florida, United States

We bought this for our conference room and it works wonderfully.

Dave E

October 25, 2018

Ohio, United States

I have had this unit for about six months. It has worked flawlessly. We now have three installations in different locations at our company. Response is fast with no noticeable land and no issues for dropping connection.

Adrian H

July 19, 2018

these did not work in our office and I wouldn't recommend the - Verified Store

sonicguru

July 2, 2018

love this push the easy button and done! - Verified Store

Trust m

June 24, 2018

So cool. No for gaming online where you require 0 lag but in any other circumstance its perfect. Highly recommend. - Verified Store

Amazon Customer

June 24, 2018

This is the second generation of this product that I have used. Excellent quality picture and sound NO LAG. - Verified Store

SMiTTY

June 16, 2018

Works great! Had it up and running in about 30 secs. I was a little leary as some reviews said the unit got hot and didn't work.
I plugged this in to my cable box about 15 feet away and within a few seconds I had video show up on my big screen. I have not seen any issues with heat! I even forgot to take the plastic wrapping off which was covering the side vent slots and still remained cool.
I would recommend this to anyone needing to go a short distance. Saved me a few hundred dollars/time by not having to rip into the sheetrock to move my coax! Money well spent! - Verified Store

Amazon Customer

June 14, 2018

works perfectly - Verified Store

Tom A

June 10, 2018

This did not work. I had professional A/V guys at my house working on my stereo and they could not get it to function. No walls in the way and about 30 feet away. Bummer. - Verified Store

Christopher W

June 4, 2018

It never stays connected. I have to reconnect daily and synchronize. Pay more for a better product this one is crap. - Verified Store

Chase7777

June 2, 2018

Thank you! - Verified Store

Pedro S

May 24, 2018

the signal is lost and my laptop returns the image a disaster ... nothing like the nyrius aries pro is more expensive but effective. - Verified Store

See all reviews