Overview

Nyrius Wireless HDMI Video Transmitter & Receiver System
Imagine a home theater setup where you can stream your favorite movies & TV shows wirelessly in brilliant 1080p High-Definition 3D. Nyrius has made this possible with its plug n' play solution that offers an exceptionally convenient experience where messy cables & wires are no longer needed – it's like an invisible HDMI cable. Wirelessly transmit the HDMI signal from your A/V receiver, cable/satellite, Blu-ray, DVD, PC, or laptop up to 60ft away to your HDTV or projector. Eliminate cable costs by streaming content from your favorite device.

Powerful Long Range Digital Signal with No Reduction in Picture Quality
This innovative solution allows for high speed, low latency wireless transmission of true 1080p HD video from any HDMI source. Transmit crystal clear video through walls, floors, & ceilings without interference from other wireless devices such as WiFi or Bluetooth. Whether it's a Netflix movie or YouTube video, you'll always stream in razor sharp, high definition.

Watching TV Doesn't Have to be Limited to Just a Single HDTV
With loop-through HDMI, you can set up two separate viewing environments, so you can view through one wired connection in your bedroom & watch the same HD content wirelessly in another room.

Stream to Multiple TV's Wirelessly
You can easily add additional receivers (sold separately) to the system & transmit wireless audio & video to even more TVs.

Control Devices in Another Room
With the included IR extender you can conveniently control your media device from any area of the home. Change channels, pause your movie, adjust volume – any function will work. Simply point your remote control at the receiver & press your remote control's button.

Easy Plug 'n Play Setup
Plug the transmitter into your devices HDMI port & the receiver into your HDTV & you're immediately connected. Power the transmitter & receiver by the included AC adapter. No software or WiFi connection required.

Specifications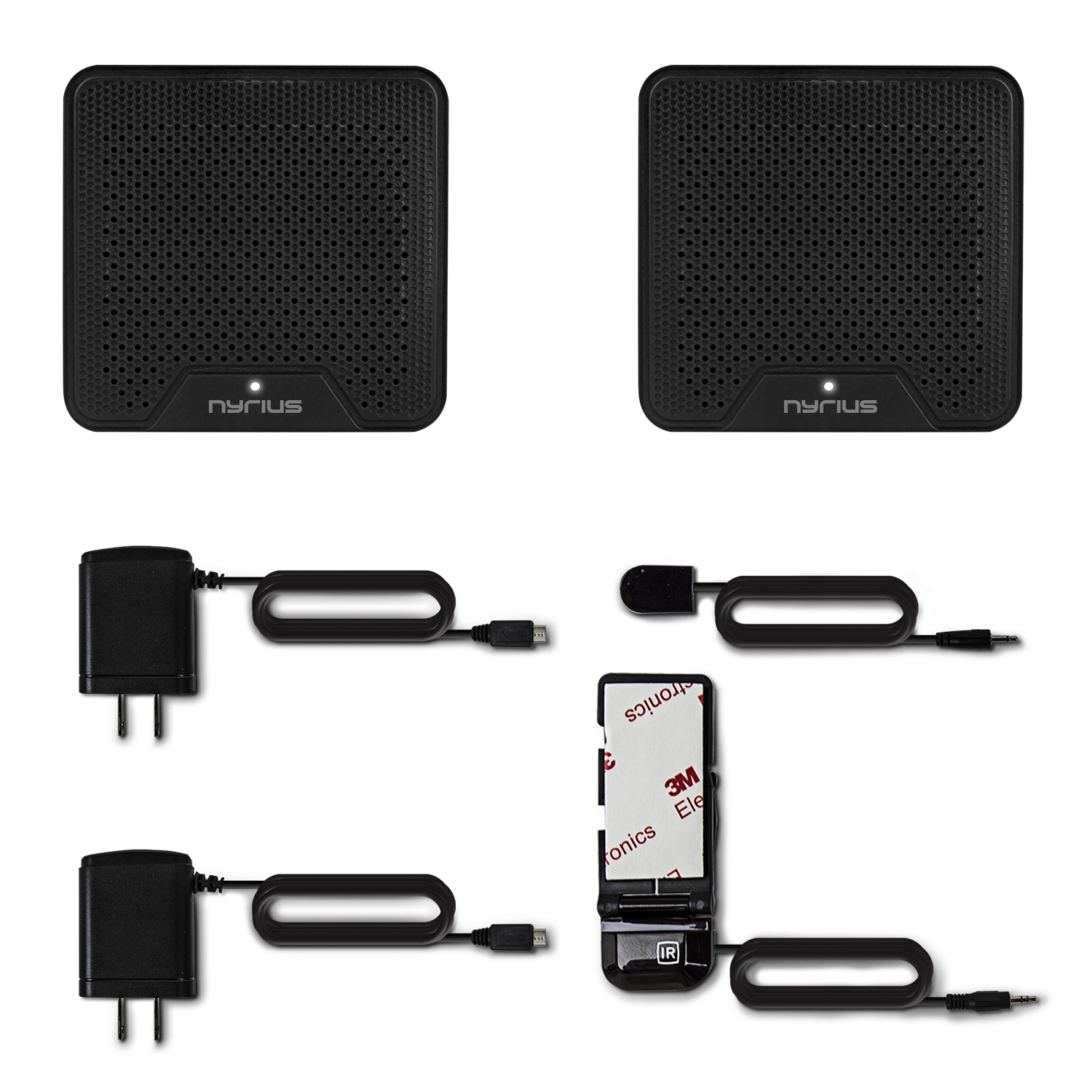 Weight
NA
Supported Video Resolution
1080p, 1080i, 720p, 576p, 480p - WS54
3D COMPATIBLE
Yes
Audio Formats Supported
PCM 2CH, Dolby 5.1
Video Formats Supported
1080p, 1080i, 720p, 576p, 480p - WS54
Ports & Interfaces
Transmitter: HDMI input, HDMI Loop Through (Output), Micro USB (for power), 2.5mm Jack (for IR Emitter) Receiver: HDMI Output, Micro USB (for power), 3.5mm Jack (for IR Emitter) - WS54
Wireless Range
60ft (clear line of sight) - WS54
Transmission Frequency
802.11 a,b,g,n ; 5.8GHz (Band 1 & 4) - WS54
System Latency
< 500ms (average 150ms) - WS54
Remote Control IR Frequency
30-60KHz - WS54
Antenna
High Performance Internal Antennas
Wireless Technology
GigaXtreme - WS54
Environmental Requirements
Keep a distance of 1.5m with any other wireless product- WS54
Source Compatibility
Any source containing an HDMI port
Display Compatibility
Any high-definition television or projector with HDMI including popular models from these manufacturers: Samsung, Sony, Sharp, Vizio, Hitachi, JVC, LG, Mitsubishi, Panasonic etc. - WS54
Wall Mountable
Yes, Transmitter/Receiver have built-in keyhole slots - WS54
Remote Control
No
Power Input
Receiver: 100-240VAC/50-60Hz (Wall Adapter)
Transmitter: 100-240VAC/50-60Hz (Wall Adapter) - WS54
Power Output
Receiver: 5VDC, 1A
Transmitter: 5VDC, 1A - WS54
Transmitter Dimensions
3.4 x 3.3 x 0.9 inches; 87.5 x 83.5 x 25 mm - WS542
Multiple Transmitters
No
Receiver Dimensions
3.4 x 3.3 x 0.9 inches; 87.5 x 83.5 x 25 mm - WS54
Multiple Receivers
Yes
UPC
061783262580
What's Included
Digital Wireless HD Transmitter, 2x External IR Remote Extender, Digital Wireless HD Receiver, 2x 100-240V AC Power Adapters, 5ft HDMI Cable, 2x Screws/Screw Anchors, 1 Year Warranty, Lifetime Customer Support, - WS54
Press

Audio Gurus Reviews the Nyrius WS54
"The Nyrius WS54 Wireless HDMI system simply works%E2%80%A6and works simply. An easy setup and fool-proof system make this a great choice for in-room wireless HDMI."
Read the Full Review

Sound & Vision Reviews the Nyrius WS54
"In many situations, it will be ideal and would work flawlessly"
Read the Full Review