Overview

Wirelessly Send Audio and Video to your TV
Now you can easily stream high quality audio and video from one room to another, all without installing wires. Whether it's your cable/satellite, DVD player, game console, or any other audio/video device with standard RCA composite connections, this wireless transmitter and receiver uses radio frequency technology that will allow you to watch it on another TV wirelessly.

Powerful Long Range 5.8GHz Signal
This system can broadcast real time audio/video up to 400ft (open space). It also transmits through walls, floors and ceilings with ease. Whether your other TV is in the basement or on the other end of your house, this video sender will broadcast crystal clear sound and full motion video. The powerful 5.8GHz signal will not interfere with Bluetooth or most Wi-Fi networks, which are typically 2.4GHz. The directional antennas ensure an optimal signal and minimize interference from other devices.

Control Your Audio/Video Device from another Room
Not only can you watch your audio/video source remotely, you can also control it. The built in IR (infrared) remote extender will send your device's remote control signals over the air. Change channels, pause your movie – any function available on your remote will work using the remote extender. Simply point the IR extender at the device you want to control and your devices can be controlled from a remote location up to 100ft.

6 Channel Frequencies with Automatic Syncing
This system has 6 channel frequencies to choose from. Pressing the channel button on the receiver will automatically ensure that the transmitter is on the same frequency. If you have other 5.8GHz wireless devices, this system's ability to switch channels will help avoid interference with your other devices. This system uses phase-lock-loop technology for optimal reception and no tuning of channels required.

Easy to Set Up and Use
This wireless sender is incredibly easy to use and installs within minutes. Simply plug in the included RCA cables to your TV and audio/video device, and you're ready to go.

Specifications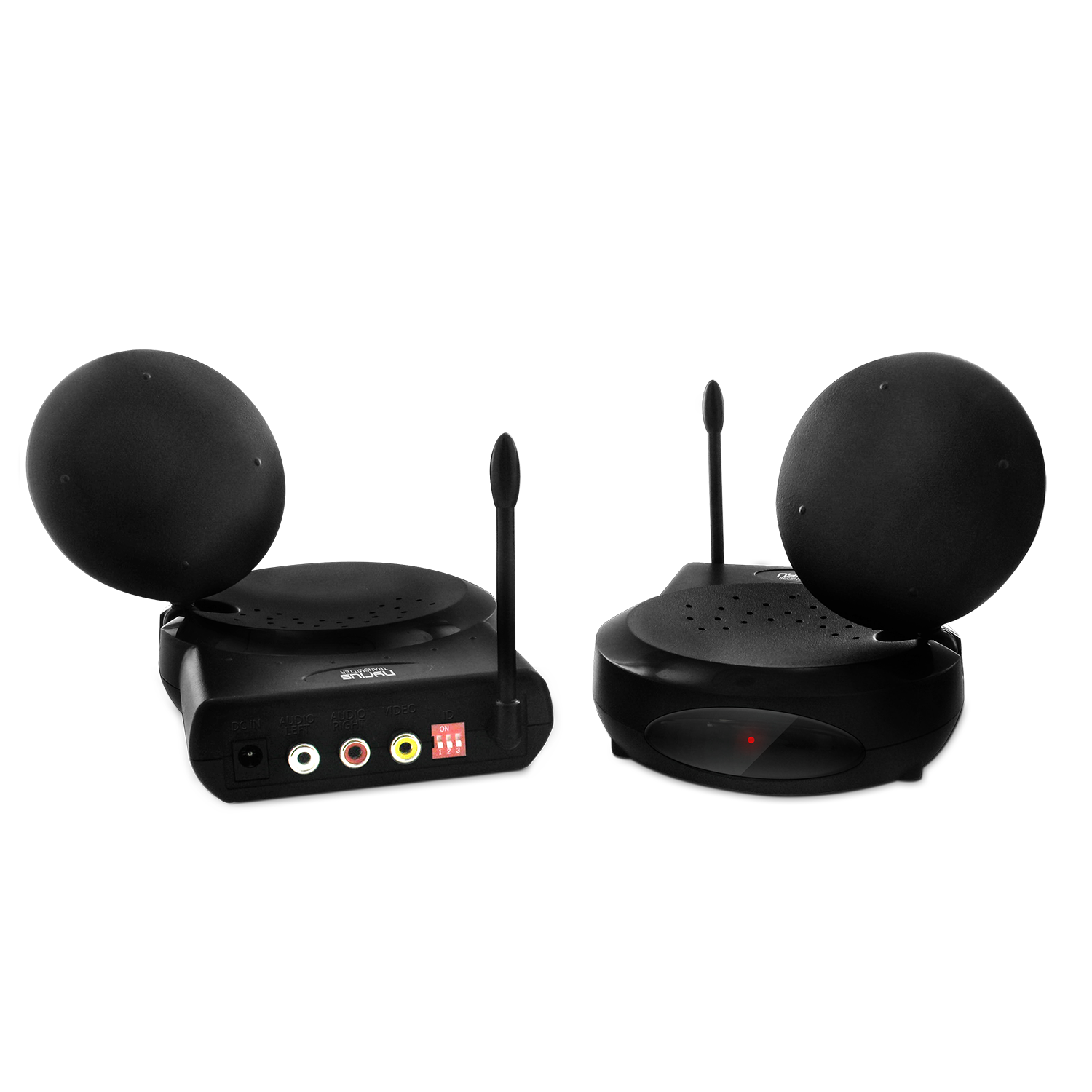 | | |
| --- | --- |
| Transmission Frequency | 5.8GHz |
| Remote Control IR Frequency | 30 KHz to 60 KHz |
| System Latency | none |
| Signal Range | Up to 400 feet open space (obstacles/interference decrease transmit distance) |
| Transmitter Connections | RCA Audio/Video Composite Jacks, External IR Extender Jack (Transmitter Only) |
| Receiver Connections | RCA Audio/Video Composite Output |
| Ports & Interfaces | RCA Audio/Video Composite Jacks, External IR Extender Jack (Transmitter Only) |
| Remote Type | Infrared (RF remotes not supported) |
| Infrared Remote Control | Signal Range Up to 100 feet |
| Built-in Directional Antenna | Yes |
| Selectable Channels | Channels 6 |
| Operating Temperature | 0 C ~ 40 C (32 F ~ 104F) Power AC 100-240V (switching adapter) |
| Output Impedance | 2K ohm Video; 10K ohm, typ. Audio |
| Output Signal Level | 1Vp-p ± 0.2V @ 600 Ω / 3Vp-p ± 0.3V @ 10K Ω, Max. |
| Dimensions | 6.0 L x 4.20 W x 1.75 D inches |
| Certifications | ICES, FCC Certified, CUL/UL |
| UPC | 871363001917 |
| What's Included | 5.8GHz Wireless Transmitter, External IR Extender, 5.8GHz Wireless Receiver with Built-in IR Extender, 2 AC Power Adapters, 2 RCA Audio/Video Composite Connection Cables, Instruction Manual, 1 Year Warranty, Lifetime Live Customer Support |
Customer Reviews
Marvin Davis

June 20, 2017

Good versatile product with a good variety of wireless audio uses. Found they work well with my HD security camera/monitoring setups and have good signal strength and clarity with these devices. I like the 6 channel setup!

Marvin Davis

5

John Smalley

May 30, 2016

So far it's working pretty good! Have a small amount of static in the audio that I'm trying to eliminate using the various channel configurations. Overall, I'm very pleased with the product.

John Smalley

5

Zhan D.

April 13, 2016

Great product. At first, I was skeptical about it, as this technology doesn't seem to be widespread. But fortunately, it works just fine: clear picture, signal getting through two walls. I am a happy customer. I have the transmitter hooked up to the DirecTV box in the living room on the first floor of the house, and the receiver with the (2nd) TV is in the backyard, next to our grill and gas cooking station, so as I move around the house and the backyard, I am able to continue watching whatever is on the main (living room) TV!
I am purchasing more receivers to put them in other locations (with additional TVs), where otherwise I would have to pay/install DitecTV boxes.

Zhan D.

5

Jon D.

April 12, 2016

I was a little skeptical, when buying this piece of equipment. I was thinking that I would have to fiddle for a long time, making it work. It actually took me no more than 15-20 minutes total to unpack, connect and fine-tune the system, so it worked to my demands. The only weird thing I encountered was that the receiver's round directional antenna had to be folded down for the best reception. Otherwise, as the receiver hooked up to the DirecTV box in the living room in our house, and the receiver duplicates everything from the living room, outside in our porch area, so I can continue watching the same program, while outside, cooking on the grill. The signal is strong through two walls, the picture on the receiver end is clear, but you can tell, it's an analog image. I am happy with the product.

Jon D.

5

David Kegley

February 23, 2016

I purchased the NY-GS3200 wireless transmitter/receiver to transmit just audio to a sound strip in a very large great room. Receiver is located behind furniture and works great. The 5.8 GHz and 6 channels allowed me to continue to use an existing setup in another part of the house to transmit both audio/video without any interference.

David Kegley

5

Judi Sambol

December 7, 2015

I purchased a set including one transmitter and 2 receivers because I only have one outlet for my cable TV but 2 TVs. It was so easy to set up and use that I purchased 2 more receivers! I now have a TV in my kitchen and bathroom. I highly recommend this product and the wonderful support I received from Sarah, SHE followed up with me, service with a smile, very refreshing.

Judi Sambol

5

Judi Sambol

November 24, 2015

I purchased a set including one transmitter and 2 receivers because I only have one outlet for my cable TV but 2 TVs. It was so easy to set up and use that I purchased 2 more receivers! I now have a TV in my kitchen and bathroom. I highly recommend this product and the wonderful support I received from Sarah, SHE followed up with me, service with a smile, very refreshing.

Judi Sambol

5

Tony B.

November 17, 2015

The unit was reasonably priced, shipped promptly and packed very well. It was very easy to set up, and has so far, performed superbly. Transmitter is on first floor, connected to the Composite A/V outputs of a a DirecTV box. Receiver is connected to the shared Composite/Component inputs of a Samsung TV on the second floor. Picture and sound are extremely clear. The 5.8Ghz signal is not affected by any interference from WiFi or microwave oven.

Tony B.

5

Ron Krell

November 2, 2015

My original review was a 5 but after a couple of weeks of use I have had to lower it to a

4. The picture is great but the remote extension isn't up to par with the picture. Some

days it works great and other days it won't work at all. Most of the time it is in between

and the channel will change when you want except instead of going one channel at a time it

starts going through a loop till it gets tired and stops on a random channel. I've also

figured out that when using the normal tv source I have to shut off the transmitter in

order for the remote on that tv to work properly. The main thing though is that the

picture transmitted from the living room to the bedroom is great and the remote issues are

simply an inconvenience. This is only a temporary set up for a few months and does what we

needed.
- Verified purchase from Nyrius trusted store. -

Ron Krell

5

Antonio Luongo

November 2, 2015

I purchased the 5.8ghz audio video sender and works great around the home.

There is no interferance and the picture is great.
- Verified purchase from Nyrius trusted store. -

Antonio Luongo

5

grandpaJim

November 2, 2015

UPDATE JAN 19, 2013. I have now added a second receive unit to this and it also works

great. Receiver about 7 feet from floor. Great unit does good job.
_______________________________

I will confess, it took me a while to get it right, which is why I decided to write this

review. I wanted to send signal about 60 feet from back of house into a small office in

the front of house. This required sending signal through 4 walls. We have a lot of other

electronic interference. Direct TV comes into house at our big home theater setup which

was state of the art 4-5 years ago. Sony receiver, Sony 60" projection TV, Mitsubishi

projector, 3 Sony DVD players, RUKU, and all the switching & splitters necessary. Uses

component video and fiber optic sound. Direct TV controller sits at bottom of left stack.

I had to relocate receiver / sender several times and finally settled on sender velcroed

to far top front of Sony TV.

Wife is professional photographer. Office has 20 TB file server, big computer, laptop, 2

big monitors and now a 24" TV that I wanted to send signal to. Everything except file

server is under her desk. A lot of interference here also.

After the fact, the biggest problem wound up being, getting Direct TV to get me the right

remote. The satellite is controlled RF. I do not use the included IR remote. Receiver is

wall mounted about 8 feet off floor, right above wife's desk and about 2 feet above new TV

to which receiver was hooked.

My wife can control the satellite from her office to watch her new TV. At the same time I

can record a program on Direct TV and watch GBTV via RUKU.

During my original lower level mounts, I found that my walking by messed up the signal.

Our Saint Bernard walking through the signal also interfered. Eight feet high on the

receiving unit was the key for us. Ears on the units really don't make a big difference

now.
- Verified purchase from Nyrius trusted store. -

grandpaJim

5

whofrs

November 2, 2015

I have 3 of these. 50 yards two brick walls, they work perfect.

Nyrius NY-GS3200 5.8GHz 6 Channel Wireless Audio/Video Sender Transmitter & Receiver

System with IR Remote Extender
- Verified purchase from Nyrius trusted store. -


whofrs

5

KLKRN

November 2, 2015

I bought this to replace another brand. I have wireless networking for my computer in my

home. The other brand got terrible reception because it transmitted on the same frequency

as my computer network and my cordless phones. This transmitter is on a different

frequency and it sends a crystal clear picture to the TV in my garage. Great quality

product.
- Verified purchase from Nyrius trusted store. -


KLKRN

5

Karen

November 2, 2015

I was a bit leary about this type of technology transmitting a clear static free picture

especially when it rain which usually impact my satellite TV. It took all of 5 minutes to

set both devices up and I have a perfect picture!! I highly recommend this unit for those

customers looking to transmit across rooms (house is 2,041 sq ft). Plan to purchase a

second receiver for my downstairs gym! Saving a lot of cash by not installing another

cable box and loving it!
- Verified purchase from Nyrius trusted store. -


Karen

5

T. P.

November 2, 2015

Picked this item after doing a little research from other reviews. I don't have a long

transmission distance, only about 25 feet, into a bathroom. There is not a direct line-

of-site from dish to dish, so I expected some problems, turns out it worked very well,

picking up enough bounced signals for clear, digital reception.
Gadget works as advertised.
- Verified purchase from Nyrius trusted store. -


See all reviews

T. P.

5