Specifications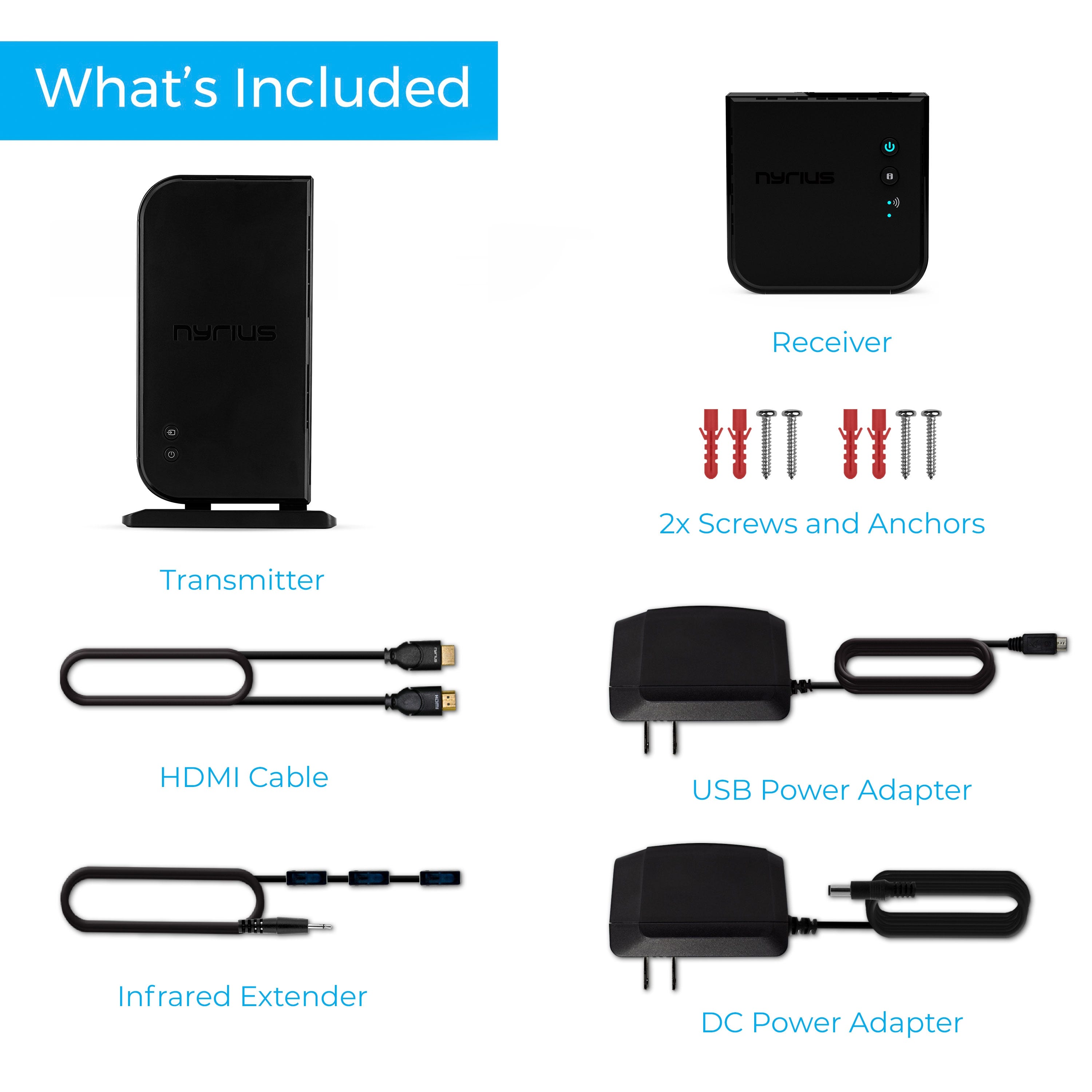 Supported Video Resolution
1080p, 1080i, 720p, 576p, 480p (Not 4K)
3D COMPATIBLE
Yes
Audio Formats Supported
Uncompressed 7.1 PCM, DTS, Dolby Digital Surround Sound
Video Formats Supported
1080p, 1080i, 720p, 576p, 480p
Ports & Interfaces
Transmitter: 1 HDMI input; Receiver: 1 HDMI output
Wireless Range
100ft (clear line of sight)
Transmission Frequency
5.1G ~ 5.9GHz
System Latency
Zero latency (<1ms)
Remote Control IR Frequency
47K, 58K, 38K
Antenna
High Performance Internal Antennas
Wireless Technology
ARIES Technology
Environmental Requirements
Keep a distance of 1.5m with any other wireless product; Any source containing an HDMI port
Source Compatibility
1080p, 1080i, 720p, 576p, 480p
Display Compatibility
Any high-definition television with HDMI including popular models from these manufacturers: Samsung, Sony, Sharp, Vizio, Hitachi, JVC, LG, Mitsubishi, Panasonic etc.
Wall Mountable
Yes, Transmitter/Receiver have built-in keyhole slots
Remote Control
No
Power Input
Receiver: 100-240VAC/50-60Hz (Wall Adapter)
Transmitter: 100-240VAC/50-60Hz (Wall Adapter)
Power Output
Receiver: 5VDC 1.5A
Transmitter: 5VDC, 2A
Transmitter Dimensions
3.8 x 7.6 x 1.5 inches / 96.5 x 193.0 x 38.1 mm (LxWxH)
Multiple Transmitters
No
Receiver Dimensions
3.7 x 3.8 x 1.1 inches / 94.0 x 20.3 x 27.9 mm (LxWxH)
Multiple Receivers
No
Adapter Compatibility
Nyrius does not recommend using Digital to Analog Adapters with our ARIES Products, however HDMI to miniHDMI/microHDMI adapters are compatible
Certifications
FCC, ICES, UL
UPC
871363017352
What's Included
Digital Wireless HD Transmitter
External IR Remote Extender
Digital Wireless HD Receiver with Built-in IR Remote Extender
2x 5ft 100-240V AC Power Adapters
5ft HDMI Cable
2x Screws/Screw Anchors
4x Rubber Feet
1 Year Warranty
Lifetime Customer Support
Number of HDMI Inputs
1 Port
Customer Reviews
Kyle M

December 25, 2022

This only worked for 10 mins before the hardware got so hot I swore it was going to melt and catch on fire. I returned for a refund.

Kyle M

1

Tom

December 24, 2022

I've tried a few HDMI transmitter/receiver devices, and the Nyrius Aries Home+ was the first. I ordered it based on a recommendation in an article I found online, which placed this at the top of its list.A couple pros: it has two HDMI ports and a remote to switch between them; most of the devices I tried only had one HDMI input. It also appeared to work well, with a clear picture and sound, over a short distance with direct line-of-sight.Unfortunately, within a week, the receiver died. It was unable to power up at all, so I had to return it. I was glad that it pooped out during the return window! I was unwilling to try another one; there are a lot of different options, and I didn't want to risk getting another dud.

Tom

2

GB

December 18, 2022

Good reception, great picture

GB

5

Rory M

December 12, 2022

Arizona, United States

Will not connect with newer computers. Worked with tech support and best they could do was get extremely poor quality image from older laptop.

Rory M

1

Rory M

December 11, 2022

Will not connect to newer laptop. After working with tech support, the best they could do was transmit extremely low quality image from older computer (see image included). Picture was not even usable. Could not make out faces or read text on TV it was transmitted to. Very disappointed for something at this price point to work so poorly.

Rory M

1

cornelis k

December 3, 2022

I don't know what is wrong with the new stuff.We have had 1 for several years, allways working well.I have mounted now 2 new ones both are broken in a week. Mounted in the same way as the "old" one. I don't know what happens

cornelis k

1

Dr A

December 1, 2022

It works barely. 30 feet line-of-sight between the units and it goes in and out until I fiddle with the positioning of each separate unit. Then when it works it's good. The remote transmits nicely through the system. We watch our recorded ATT UVerse recorded news while having dinner.I put a splitter on the HDMI "out connector" from the ATT Uverse. One HDMI from the splitter goes to the TV and the other to the Nyrius Transmitter. The Nyrius remote control line is taped a few inches in front of the UVerse box. 3 HDMI cables are required: one to the splitter from the ATT Uverse box and two out of the splitter.The Nyrius receiver is connected to a small TV near the dining table. I almost sent this whole thing back but my wife thinks that I should have time to fiddle with it and get it working while she prepares the meal. So, now I've got a new chore. Fiddling with this before dinner. Glad to be retired. Thanks a lot.

Dr A

3

David X

October 25, 2022

I had high expectations for this product but turned out to be a total waste of time. The deal breaker is the distance. It runs on 5G Hz therefore it has a very limited transmission range and is prone to interference in the nearby environment. This is unfortunately the nature of the 5G Hz frequency, not entirely the fault of this product alone, but Nyrius should have done a better job testing and explaining their actual range in a real-world environment (e.g., in my case, 35 feet between transmitter and receiver but with 2 walls in the middle) so that people would better understand what outcome this product can achieve before making a decision of purchase.My result: the transmitter and the receiver barely make the connection, and even if they do, the connection will only last a minute or two before the signal is lost and the linking process starts all over again. IR control works with a terrible delay as well.Will return this product and keep looking.

David X

1

Luis V

September 20, 2022

The delivery was great, the equipment is easy to set up. The price went up drastically. I had bought the same wireless HDMI and it was cheaper.

Luis V

5

Amazon Customer

September 15, 2022

The product is limited. You can't use a splitter, the product must connect directly to the source which forces you to use the output port to connect your primary screen. When you do that the primary screen constantly refreshes because the signal from the source connected to hdmi 1 drops. The screen connected to the wireless receiver didn't refresh as frequently, but had issues locating the wireless signal to come on-line.

Amazon Customer

1

Gerry

August 19, 2022

The add says up to 100 feet. I get less than 25 feet. The IR receiver needs the controller to be withering 3 feet to work.

Gerry

2

Amazon Customer

August 5, 2022

This product delivers on all of the promises that it makes. I have completed several tests with the product including range, latency, and refresh rate tests. Using a super wide monitor in picture by picture mode with 1ms response time, I used the Nyrius wireless HDMI receiver on the left screen and a wired HDMI connection on the right screen and saw absolutely no difference in latency, refresh rate, and resolution between the two. This wireless HDMI truly has zero latency and practically transmits instantaneously. I am able to achieve a constant stable 60hz refresh rate at 1080p with no interference.For a more practical use, I wired the transmitter to my desktop in the top right corner of my house, and wired the receiver to a TV on the bottom left corner of the house, which is as far as I could take the connection. To my surprise, the signal is certainly capable of transmitting through both a floor and a wall as well as a couple other obstacles and experience little to no issues. The wireless HDMI can sustain 60hz at 1080p with zero latency even under this circumstance, and it is downright impressive. Only after a couple hours of use did I notice some artifacting for a few seconds, after which the effect disappeared.I highly recommend this wireless HDMI product for those who are looking to stream a computer or game console with zero latency to any location in your house. It is suited perfectly for this role.

Amazon Customer

5

D. S

July 28, 2022

It does exactly what it's supposed to do. Pure High Def Images and sound with no wires and a nice clean look

D. S

5

M

July 28, 2022

I've bought two of these and both have failed in about 18 months, first time thought just a one off. Additionally, I had to reset/resync almost monthly in the last 3 months of its life span before it failed. Switching to another brand due to Nyrius lack of quality in its product.

M

2

Nathan W

July 25, 2022

Tried a cheaper alternative that claimed 4K and gaming capability. Completely false, and returned for this one.This one works perfectly, no lag, and can game, Blu Ray etc without issue. Highly recommend this product.

See all reviews

Nathan W

5
Resources
Manual
Guides
FAQs
What is the best use for Aries Home+?

Aries Home and Home+ are great for sending the video signal from devices like Television Set Top Boxes (cable & satellite), video game consoles, and DVD and Blu Ray players!
 

Can I watch the same video in more than one place?

NAVS500 Nyrius Aries Home is designed to transmit video from one video source to a display such as a television.
The HDMI loopthrough feature available on the NAVS502 Aries Home+ allows you to watch one TV with a wired HDMI connection and another with a wireless connection to the receiver. This feature is available on the Aries Home+ and WS55.


What is HDMI Loopthrough?

HDMI Loopthrough, is a feature available on Aries Home+ and WS55, allowing you to connect your video source directly to your display through an HDMI port on the product's transmitter, then also send the same video to the receiver connected to another display. Allowing you to watch on two displays at the same time!
 

Do you have a multiple receiver option?

The WS55 model transmitter is able to connect with up to 4 WS55 receivers (WS55RX). This allows you to send wireless video to 4 displays, with one wired connection at the transmitter for a total of 5 displays at the same time.


What is Latency?

Also known as input lag, Nyrius Aries Wireless HD transmitters and receivers are considered Zero Latency. This means if you're using a computer and move your mouse, there is no delay. This makes Aries product great for presentations and gaming!


Articles from our experts