Specifications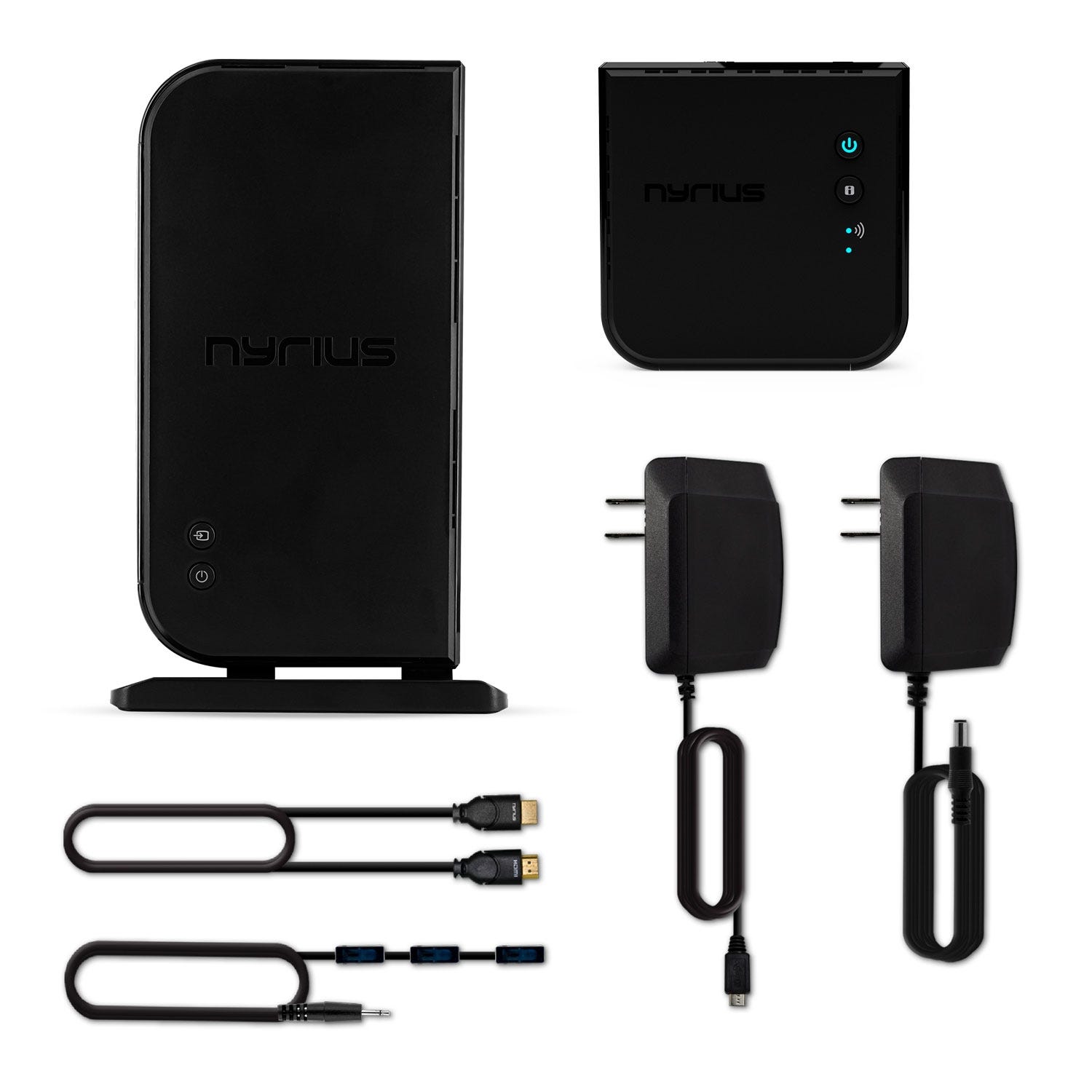 Supported Video Resolution
1080p, 1080i, 720p, 576p, 480p (Not 4K)
3D COMPATIBLE
Yes
Audio Formats Supported
Uncompressed 7.1 PCM, DTS, Dolby Digital Surround Sound
Video Formats Supported
1080p, 1080i, 720p, 576p, 480p
Ports & Interfaces
Transmitter: 1 HDMI input; Receiver: 1 HDMI output
Wireless Range
100ft (clear line of sight)
Transmission Frequency
5.1G ~ 5.9GHz
System Latency
Zero latency (<1ms)
Remote Control IR Frequency
47K, 58K, 38K
Antenna
High Performance Internal Antennas
Wireless Technology
ARIES Technology
Environmental Requirements
Keep a distance of 1.5m with any other wireless product; Any source containing an HDMI port
Source Compatibility
1080p, 1080i, 720p, 576p, 480p
Display Compatibility
Any high-definition television with HDMI including popular models from these manufacturers: Samsung, Sony, Sharp, Vizio, Hitachi, JVC, LG, Mitsubishi, Panasonic etc.
Wall Mountable
Yes, Transmitter/Receiver have built-in keyhole slots
Remote Control
No
Power Input
Receiver: 100-240VAC/50-60Hz (Wall Adapter)
Transmitter: 100-240VAC/50-60Hz (Wall Adapter)
Power Output
Receiver: 5VDC 1.5A
Transmitter: 5VDC, 2A
Transmitter Dimensions
3.8 x 7.6 x 1.5 inches / 96.5 x 193.0 x 38.1 mm (LxWxH)
Multiple Transmitters
No
Receiver Dimensions
3.7 x 3.8 x 1.1 inches / 94.0 x 20.3 x 27.9 mm (LxWxH)
Multiple Receivers
No
Adapter Compatibility
Nyrius does not recommend using Digital to Analog Adapters with our ARIES Products, however HDMI to miniHDMI/microHDMI adapters are compatible
Certifications
FCC, ICES, UL
UPC
871363017352
What's Included
Digital Wireless HD Transmitter
External IR Remote Extender
Digital Wireless HD Receiver with Built-in IR Remote Extender
2x 5ft 100-240V AC Power Adapters
5ft HDMI Cable
2x Screws/Screw Anchors
4x Rubber Feet
1 Year Warranty
Lifetime Customer Support
Number of HDMI Inputs
1 Port
Customer Reviews
James H.

October 13, 2020

Texas, United States

Plug and play. Great video transmission to outdoor TV (just a regular TV but on the covered lanai. Only thing is it momentarily blanks the screens on both tv's when commercial come on. Weird. Don't transmit sound on this as I have speakers wired from amp to this area. I have two other Nyrius units that do transmit audio without a problem.

James H.

5

BRIAN M

September 26, 2020

This product worked extremely well at first but has since turned into a disappointment. The cable box is in the same room as the TV so it's not a distance issue. I've tried to reboot both boxes for the device and nothing works. For the price that this unit costs, I would have expected a little longer longevity.

BRIAN M

2

T. K

September 20, 2020

Easy to set up. I did opt to buy a separate HDMI cable splitter ($12) to ease the setup on my particular set needs. Picture is awesome on receiving unit.

T. K

5

Michael A

September 19, 2020

Range no where as advertised. Very disappointed. Worked better the higher up the transmitter and receiver were placed.

Michael A

2

bosstrent2010

September 9, 2020

I love this thing. Made it easy for me to run my Xbox one and ps3 to my tv mounted on the wall so I can keep all wires concealed behind the tv. Transmits the signal nicely. People are impressed when I tell them there's no wires, well none that they can see.

bosstrent2010

5

Cathie

September 4, 2020

I hooked up the units and connected the devices and turned on the TV expecting to configure the set up but boom! Already transmitting and all working with a great picture. Easiest install I've ever done. If the box does power down then you turn it on, do wait a minute for it to power up before you can get the image in the TV.

Cathie

5

Timothy S

September 4, 2020

Range isn't as advertise. Kind of works when it wants to. Great when it works unfortunately that's about half of the time.

Timothy S

1

Woody

September 2, 2020

Used this to replace a damaged in wall HDMI cable that could not be replaced. Did not notice any lag which was my biggest concern with going to this technology. It was very easy and quick to set up and get operating. I wish I would have tried this first instead of the hours I put in trying to replace HDMI ends!

Woody

5

Stephanie

August 29, 2020

This is the second HDMI wireless transmitter that I have purchased with the hopes of being able to transmit my satellite receiver HDMI output to a TV that is less than 50 feet away, through one wall. The previous purchase was from a different vendor, different product...same concept and same issues. I live in a rural area with no other residences nearby...so interference is not an issue. It worked fine for a few days then no video or audio. It appeared to lose connection with it's host. I wish I could find a solid piece of hardware that will perform. Seems that making a dependable HDMI transmitter that will last is a technological hurdle that cannot be overcome at this time.

Stephanie

1

Robert L

August 25, 2020

Easiest setup. High quality video all the time. IR relay positioning took a few minutes, but the result is perfect.Great buy! Was recommended to me and that person was absolutely right.

Robert L

5

mike08g35

August 23, 2020

This product worked ok for a little less than 3 months, then the transmitter died. The return window was only 1 month! I ordered may 3, return window ended June 3. What a waste of money.

mike08g35

1

Justin

August 5, 2020

Purchased to watch live sports out on our patio, approximately 40' away, zero connection issues, solid picture quality

Justin

5

B3EddieB

August 2, 2020

Came in a factory sealed box. Setup was easy and it worked with no issues for about a week until it didn't. The transmitter and receiver indicate that they are talking to each other, but it does not transmit a picture. HDMI input on the transmitter must have died. The TV display shows an icon of a movie camera with an X next to it. I tried different video sources and HDMI cables to no avail. Unfortunately, I waited too long before setting it up and it's past the Amazon 30-day return policy, so it has to go back to the manufacturer at my expense. I hope they will honor the warranty from this supplier.

B3EddieB

2

B. H

August 2, 2020

a little stubborn on the signal once in a while could be the wall but only 35 feet

B. H

4

Amazon Customer

July 31, 2020

So easy to install. Plugged devices in and it detected them almost immediately. I was able to setup an xbox one with my wall hung tv and put the xbox in a closet so that there were no wires showing at all. Excellent product. Highly recommend.

See all reviews

Amazon Customer

5
Resources
Manual
Guides
FAQs
What is the best use for Aries Home+? ▼

Aries Home and Home+ are great for sending the video signal from devices like Television Set Top Boxes (cable & satellite), video game consoles, and DVD and Blu Ray players!
 

Can I watch the same video in more than one place? ▼

NAVS500 Nyrius Aries Home is designed to transmit video from one video source to a display such as a television.
The HDMI loopthrough feature available on the NAVS502 Aries Home+ allows you to watch one TV with a wired HDMI connection and another with a wireless connection to the receiver. This feature is available on the Aries Home+ and WS55.


What is HDMI Loopthrough? ▼

HDMI Loopthrough, is a feature available on Aries Home+ and WS55, allowing you to connect your video source directly to your display through an HDMI port on the product's transmitter, then also send the same video to the receiver connected to another display. Allowing you to watch on two displays at the same time!
 

Do you have a multiple receiver option? ▼

The WS55 model transmitter is able to connect with up to 4 WS55 receivers (WS55RX). This allows you to send wireless video to 4 displays, with one wired connection at the transmitter for a total of 5 displays at the same time.


Articles from our experts