Specifications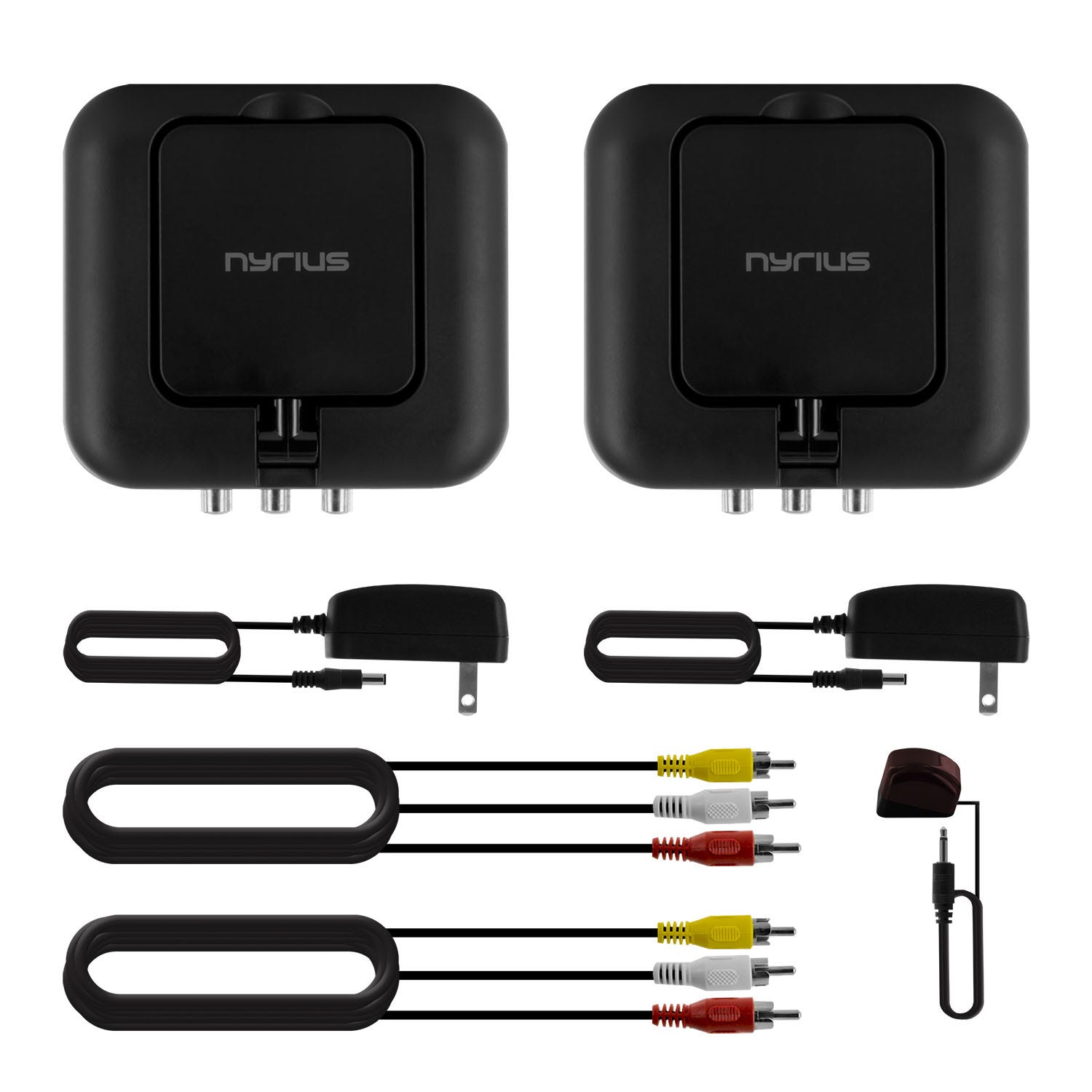 Transmission Frequency
5.8GHz
Remote Control IR Frequency
38/56KHz switching
System Latency
<10ms
Signal Range
Up to 225 feet (obstacles/interference decrease transmit distance)
Transmitter Connections
RCA audio/video composite jacks, external IR extender jack
Receiver Connections
RCA audio/video composite jacks
Ports & Interfaces
RCA audio/video composite jacks, external IR extender jack (transmitter only)
Remote Type
Infrared (RF remotes not supported)
Infrared Remote Control
Signal range up to 100 feet
Built-in Directional Antenna
Yes
Selectable Channels
4
Power Input
Input: AC 100-240V 50-60Hz 200mA Output: DC 12V/250mA
Output Impedance
2K ohm
Output Signal Level
1.0 Vpp +/- 0.2 Vpp
Weight
0.44lbs
Dimensions
4.33 x 3.94 x 1.5 inches / 110 x 100 x 38.1 mm (LxWxH)
Certifications
ICES, FCC Certified, CUL/UL
UPC
061783256664
What's Included
5.8ghz Receiver With Built-In IR Extender
External IR Extender
110-240V AC Power Adapters
Audio/Video Composite Connection Cables
Quick Start Guide
Lifetime Customer Support
1 Year Manufacturer's Direct Warranty
Customer Reviews
G. E

September 25, 2021

Nice device that was easy to install and set up. The audio and video quality is excellent. The signal is stable even after passing through the second floor. The only complaint that I have is that I was unable to get the remote control to work. I am using another device for this purpose. If the remote feature had worked I would given this product five stars.

G. E

4

GUY T

September 18, 2021

Terrible

GUY T

1

JW

September 16, 2021

Saw a video to establish "wireless" surround to the rear speakers using these, so I bought it. The transmitter and receiver were probably no more than 8 feet apart. No matter how I tried to dial it in, the speakers crackled and popped. One day I turned it on and no sound came out of the speakers from the receiver. I made sure the speakers still worked - they did. But the surround from my receiver now emits no sound. Even sound tests hard wired to the surround speakers emit no sound. It must've blown something. I went from a 5.1 system to now a 3.1. These are worthless, and now I have a handicap theater system. Not happy.

JW

1

Luis A

September 14, 2021

Buzzes and pops whenever someone comes in between the 2 units. Power surged once and it made thos horrible noise because one unit went out. Pretty it blew one of my speakers

Luis A

1

Ed R

September 11, 2021

I first ordered the set that had a regular antenna that's "supposed" to go thru walls. Note: Can't remember the make/model. That hunk of junk only would go thru a window when window was open. The transmitter and receiver where about 10 feet from another.This set works a crapload better so parents can watch TV outside.No need for remote option.

Ed R

5

Simon P

September 2, 2021

I use this product to mirror my cable TV into my home office, which is in a separate room. Initially this product worked great. I've had a AV transmitter / receiver before and this worked very well out of the box initially.I've had this product for 6 years now. But after around year 3, I definitely started noticing a degradation in quality. The audio would start buzzing and the picture would lose quality. I kept changing signal channels and sometimes that would help and sometimes it wouldn't. But over the years even changing the signal channel wouldn't help. The past year it's been almost completely unusable. The problem is the receiver, the power light seems flicker and I think it's basically detonated.I debated giving this product two stars instead of three. But it did work very well the first couple of years. Also the AV format is probably going to be absolute from most TVs in a few years. Still if you have a fixed legacy setup where you need the components to be durable, this product probably isn't the best solution. This product is better if the range is only about a room or two away with minimal signal and line of sight interference and it's a setup that only needs to last less than a couple of years.

Simon P

3

Ron W

August 31, 2021

Purchased this for a customer - then she had 3 relatives/friends who died in a short time period. So never got it installed before return time ran out. Signal wouldn't go through her thick walls.

Ron W

5

Mekhail

August 28, 2021

Got this to transmit my cable TV signal from the living room cable box to the kitchen and office room TVs. Works great; even transmits through closed doors. Occassional minor static when a person walks between the receiver and tansmitter, but no big deal as that is very infrequent and ephemeral.

Mekhail

4

drewrichards2000

August 4, 2021

I hooked up th first set in 5 mins worked as advertised..opened second box and IR was in 3 pieces and didnt work not respponse from diod...tried spare IR wires from other remotes in unit and still no response...one set great second set appears used...will update if vendor ever responds.

drewrichards2000

3

alltech

August 3, 2021

I have the transmitter set up a couple of rooms down the hall and without direct line of sight to the receiver. Nontheless, the receptions is exceptionally good. I did have to try different channels to find the one that gave excellent reception.

alltech

5

Catherine T

July 16, 2021

Ontario, Canada

Initially, the device worked perfectly. At the moment, I have difficulty changing channels and accessing the guide on the remote TV. Although the remote control works fine with the main set-up, it does not work reliably with the remote tv and Nyrius receiver. I am investigating the possibility that the batteries in the remote control may be too weak to activate the extender. I'm hoping fresh batteries will correct the problem. This is my 3rd system of this type and the 1 difficulty I have always had with each of the systems is the extender's sporadic performance.

Catherine T

4

Stephen M

June 29, 2021

Don't expect to have a high definition picture because the unit broadcast in analog not digital. It does have a dificult time going through walls. The IR extender works great.

Stephen M

4

Jeffery P

June 25, 2021

I try to use these as a source for 5.1 rear channels. They sounded terrible. A lot of distortion.

Jeffery P

1

John A

June 16, 2021

WORKS BETTER THAN THE 200 ONE I BOUGHT

John A

5

ranz

June 3, 2021

I got this to drive a set of outdoor speakers on my patio. All I get is static, and not very loud static at that. I've gone so far as to have the transmitter and receiver within a foot of each other and still nothing. I suspect it's not strong enough to drive these relatively small speakers and that I would need it to feed into some other kind of amplifier, which kind of defeats the purpose. If I need an amplifier then why not have one with it's own radio receiver. Considering returning the item.

See all reviews

ranz

1
Resources
Guides
Manual
FAQs
Can I use this product with HDMI?

NY-GS10 can be connected to analog RCA connections. You can confirm that your video source and display are compatible by checking for Red, White and Yellow video inputs and outputs. This product is not compatible with HDMI or Component Connections (Red, White, Red, Blue, Green).


Can I connect this directly to my coaxial cable outlet on the wall?

NY-GS10 cannot be connected directly into your cable connection. A cable or satellite set top box would be required to convert the signal for use.


Can I connect the transmitter to one TV and send the video to another?

TVs don't typically have video outputs, this means that you cannot send video from one TV directly to another. To use more than one TV with the same video source, you can use up to 4 receivers with the NY-GS10 (NY-GS10RX)!