Overview

Bring your smartphone or tablet to life with the convenience of a wireless Bluetooth connection while listening to your favorite music the way it was meant to be heard – in high fidelity through your music or home theater system. Control your playlist wirelessly while you're relaxing on the couch or let your friends take turns sharing their music from their smartphone at your next party. The Nyrius Songo™ HiFi Bluetooth Music Receiver is the perfect plug n' play solution for wireless audio streaming that delivers a superior listening experience.

Superior aptX Sound Performance
Don't be fooled by the compact size of Songo HiFi, no bass is too deep or treble too high to transmit wirelessly to your music system. Powered by aptX premium audio technology and Bluetooth 3.0 with EDR (enhanced data rate), this exclusive listening experience delivers crystal clear, high fidelity music to your stereo system up to 33 feet. Songo HiFi is designed to deliver the fullest frequency range of your favorite tunes without any interference, unlike other Bluetooth devices that over-compress audio and can lose connection with your device.

Keeping Things Simple with Auto-Pairing
Songo HiFi automatically connects Bluetooth to your speaker system every time your smartphone, tablet, or laptop is within range – it's that easy! Spend more time enjoying your music and less time with manual setup.

Let Everyone Join the Party
When you're listening to music with family and friends at your next gathering, Songo HiFi makes it easy for everyone to share their favorite playlist. Store up to eight mobile devices and experience the power of music bringing people together.

Connecting to your Music System is a Breeze
With wireless Bluetooth audio transmission, inconvenient and messy wired connections are a thing of the past. Freely listen to music through your speakers without wiring or docking your smartphone. With Songo HiFi, setup is extremely simple – plug the receiver into your music system, wirelessly pair your audio device, and you're set. No software or app required. Compatible with iPhone, iPad, iPod, Samsung, Android, Blackberry, PC, Laptops or any of the other 900 million Bluetooth audio devices.

Specifications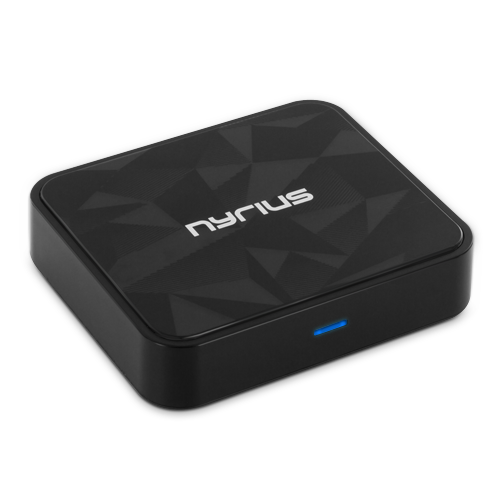 | | |
| --- | --- |
| Bluetooth | 3.0 A2DP EDR (Enhanced Data Rate) |
| Codec | aptX%C2%AE (compatible with aptX-enabled devices) |
| Output Specifications | Digital Optical Toslink Output 3.5mm Auxiliary Output |
| Signal Range | 33 feet (line of sight) |
| Transmission Frequency | 2,402~2,480MHz |
| AUTOPAIRING | Yes |
| COMPATIBLE DEVICES | See Downloads |
| Dimensions | 3.2x2.8x0.79inches, 80.8x70.0x20.1mm |
| Weight | .15 lbs |
| UPC | 061783256893 |
| What's Included | Bluetooth music receiver,3.5mm auxiliary cableAuxiliary to RCA adapter100-240V power adapterQuick start guide1 year warrantyLifetime customer support |
Customer Reviews
M. Erb#1 HALL OF FAMETOP 10 REVIEWERVINE VOICE

November 4, 2015

The Nyrius Songo HiFi bluetooth receiver is a small little device that can bring some new

skills to your old receiver. I was easily able to connect it to an old stereo system I

had. Once I had it hooked up, about a 2 minute process, I was able to stream music from my

iPhone, iPad, laptop, and Nexus 7 tablet to my old receiver. It sounded great.

The Nyrius receiver is able to remember pairings with more than one device so if you've

got a couple devices paired to it, whichever one is the last one paired will be connected

if it is in range, otherwise if that last paired device is unavailable and another

previously paired device is on then the Nyrius will connect to that one instead. It's nice

that I don't have to reconnect manually each time I want to use a different device.

The Nyrius receiver is a small little thing measuring roughly 2 3/4" x 3 1/8" x 3/4". On

the back is an aux output, optical output and DC input. The power adapter is 120-240V,

50/60Hz and has a 6' power cord. Also included is a short Aux to RCA connector and a 6'

Auxillary cable.

If your device is aptX capable, you will notice an improved sound compared to normal

bluetooth connection.
Either way, this is a wonderful addition to a home stereo. It gives you the flexibility in

getting streamed music from several devices to your stereo system or powered speaker.

I was provided a sample for review.
- Verified purchase from Nyrius trusted store. -

M. Erb#1 HALL OF FAMETOP 10 REVIEWERVINE VOICE

5

Amazon Customer

November 4, 2015

When I first received it, I was surprised how light the box was. Very simple to setup and

just so useful. I attached it to a spare receiver in the guest room. Worked great. I also

attached it to an old boom box with an aux input that I use outside during BBQs. Worked

great. Basically, my cell phone (while next to me at all times) was streaming music on my

wifi from spotify and my google play drive and playing on the boom box. Older audio

equipment is useful again. Just really cool. The Nyrius box hasn't failed me yet.
- Verified purchase from Nyrius trusted store. -


Amazon Customer

5

Chi Guy

November 4, 2015

DEAR MANUFACTURER. WHY DID YOU NOT INCLUDE A USB TO 5VDC POWER CORD? I RESEARCHED AND

FOUND ONE THAT WORKS MAKING THIS DEVICE MORE PORTABLE. PLEASE REPLACE THE INCLUDED POWER

SUPPLY WITH A USB TO 5VDC ADAPTER ALLOWING PEOPLE TO USE THIS DEVICE ANYWHERE TO INCLUDE

AT OUTDOOR PICNICS AND BACKYARD FUNCTIONS.

My Review -

Excellent Product! I took it out of the box, plugged it in, and paired my phone in less

than two minutes.

- Suggestions:

Think altitude for placement!!! I intially placed this on top of my TV stand in front of

my TV. It took me a few days to realize my sofa was cutting into the distance that I could

have between my iPhone and this device. I placed this unit centered on top of my 55 inch

flatscreen TV. I taped the power and audio wires to the back of my TV (black electrical

tape) just below the top of the TV in order to secure this device. Huge difference! I can

now wonder all over my place and remain connected. No skips or interuptions at all. Place

this device higher than all of your furniture and counter-tops. The blue light looks nice

above the TV.

Pair this with an aptx transmitter to get the best sound quality. I purchased the "KOKKIA

i10s + aptX Tiny Bluetooth iPod/iPhone Transmitter". IPhone does not have built-in apt-X

technology. I also purcahsed the "Azio USB Micro Bluetooth Adapter V4.0 EDR and aptX

(BTD-V401" for my laptop. Again, the sound is simply amazing.

KOKKIA aptX transmitter for iPhone/iPad
http://www.amazon.com/gp/product/B008PWN0I4/ref=gno_cart_title_0?

ie=UTF8&psc=1&smid=A26BW72QMZTE51

Azio USB Micro Bluetooth Adapter V4.0 EDR and aptX (laptop)
http://www.amazon.com/gp/product/B00JAZGSXY/ref=oh_details_o01_s00_i02?ie=UTF8&psc=1

I recommend that you ensure the entire device is exposed and that you do not butt the

device directly against any structure. Also, RF is a tricky thing. All RF transmissions

generate "harmonics". So even if two devices operate on two separate frequencies, second,

third, and fourth "harmonics" which are a by-product of the center frequency can bleed

into and/or interfere with the signal of other wireless devices. If you are having

problems put a little distance between this device and other transmitters such as your

wireless router.

I also recommend that you do not place this device in direct contact with other electrical

devices. AC (alternating current) as well as circuit boards "radiate" RF at very low

levels. Direct contact with an AC cord or an electrical device may generate some level of

signal interference as well. A small air-gap should suffice.

(Optional) Purchase and install the Audioforge EQ app. It really cleans up the music sound

quality even on songs that you currently think sound great. The price for the app when I

purchased it was $2.99 and worth every penney. It even has a great interface with your

playlists.

- If Cannot Connect:

If you live in an apartment, your neighbor's BlueTooth (phone, ipad, laptop, PS-4, X-Box,

etc.) may have connected first. If some other device beats your device to pairing with

this product you will not be able to stream from it.

- USB Power Options:

I researched a few USB options to power this device in my car or in my house. This device

requires 5 vdc and 0.6 amps. So i have located USB to 5 vdc Adapter cords that should work

with this device. I have purchased one and will update this review when I test it out.

Here are a couple of links below. You may also check locally at Frys Electronics, Best

Buy, and so forth.

The 5 vdc power adapter I purchased from Fry's Electronis works! I used it in my car and

my home this weekend. The specs to it are as follow:

*Frys website #7726838
*Manufacturer: OSEPP
*UPC #899262000022
*Model #LS-00011

*USB port to a 5.5 x 2.1mm center positive barrel jack <== (note the outer and inner

barrel dimensions here)
*3.28" long cable
*18 AWG Wire Cable
*2A maximum consumption <== (any adapter that provides 0.6 amps or more should do)

BiXPower USB Port Power Cable with 3 Extra Popular Interchangeable Connector Tips (pricey

due to diff sizes)
http://www.amazon.com/BiXPower-Power-Popular-Interchangeable-

Connector/dp/B006MWXZM0/ref=cm_cr_pr_sims_t

1-16 of 97 results for "USB 5v Barrel Jack Adapter"
http://www.amazon.com/s/ref=nb_sb_noss?url=search-alias%3Daps&field-keywords=USB+5v

+Barrel+Jack+Adapter+

Electrically, any 5vdc USB adapter that supplies 0.6 amps or more will work. All USB cords

provide 1 amp or more so this is not a problem.

- Last Thoughts:

They also sell a BR51 for approx $20 more than this BR50. I researched the diff. The BR51

has NFC (Near Field Communications). The BR50 does NOT have NFC. Currently, NFC just

allows you to tap your phone on this device and it will pair with it. Iphones do not

support NFC. Even though I have an iPhone, I do not see the $20 advantage of being able to

bump your phone to pair with this device. I simply turn on my phone's "Bluetooth" and I am

paired without walking across the room to do it.

Due to the sleek design, superb sound quality from aptX technology, optical output option,

and good line-of-sight range, I view this product as worth the price. Lower cost receivers

typically do not include aptX technology, which is why their sound quality is so poor.

Also, with the USB to 5vdc car adapter that I am researching, this device becomes even

more versatile than it was originally for.

THIS IS AN EXCELLENT PRODUCT!!!!

BTW I work in the field of Aerospace Technology such as Avionics, RADAR, Satellites and so

forth. This is why my review is somewhat technical and maybe a bit too wordy. Sorry for

that.
- Verified purchase from Nyrius trusted store. -



2 commentsWas this review helpful to you?
Yes
No
Report abuse
3 of 3 people found the following review helpful
5.0 out of 5 starsEasy to Install and To Get Up and Running
Bythomas j. dolanon February 13, 2014
Size: Aux / OpticalVerified Purchase
This has completely met my expectations. I looked at other options for sending music

wirelessly to my stereo receiver and I chose this as the best value for my money.
Very easy setup. I used the optical cable connection, and the music sounds awesome.
Small, discrete and totally functional.
- Verified purchase from Nyrius trusted store. -



CommentWas this review helpful to you?
Yes
No
Report abuse
3 of 3 people found the following review helpful
5.0 out of 5 starsIncredible Digital Sound
Byaviatrixon March 8, 2014
Size: Aux / OpticalVerified Purchase
Great little product, and appropriately priced at $29.95 when I bought one. However, when

I went to order more, I found it was their intro price, and now the priced is doubled. Too

much for me now. I wanted to put one in the car, one in a boom box and a couple more in

the house. Bummer.
- Verified purchase from Nyrius trusted store. -

Chi Guy

5

eric

November 4, 2015

I have been using this for the past month on my home stereo / home theater system that was

installed over 10 years ago. Over time I realized that I was only using it when watching

movies since CDs have gone the way of the dinosaur. After hooking this up, I have been

listening to music almost every day. Sound quality is impressive and I am very happy.

One thing to be aware of: My wife and i have quite the music library on our phones and

after setting her phone up, we came home from a weekend away and I could not connect my

phone. I tried for 15 minutes resetting everything and then remembered the last device to

be connected was the wifes phone, which was sitting in her purse on the counter CONNECTED.

After turning her bluetooth off my phone connected right away. If you have difficulty

connecting, make sure any other bluetooth devices you have ever connected to this are off

or out of range.
- Verified purchase from Nyrius trusted store. -


eric

5

Carlos Johnson

November 4, 2015

Great product, small enough to be placed beside your stereo or on top, silent including at

the pairing moment.
The feature that I loved most is the power supply adapter which is 110 / 240 volts so you

can bring it when you're traveling or in a country with 220 volts; no heat in power

adapter after hours of use. if the Nyrius songo is not in use the blue light is turned off

to save energy and the receiver passes to discoverable mode.
- Verified purchase from Nyrius trusted store. -

Carlos Johnson

5

M Jordan

November 4, 2015

Easy to set-up and works great! I'm very happy with the Nyrius - everyone in the family

can now stream music from their phone or laptop to the receiver in the living room - as it

can store up to 8 Bluetooth connections!
- Verified purchase from Nyrius trusted store. -


M Jordan

5

Alex Hidalgo

November 4, 2015

The setup was super easy and the range is great.
I have not experienced any drops so thumbs up on this device!
- Verified purchase from Nyrius trusted store. -


Alex Hidalgo

5

Vinny

November 4, 2015

I love this little receiver. Works very well as a way to play streaming music from a

tablet/phone to my older home theater receiver which only has optical/coax inputs. The

sound quality is excellent when in direct line of sight. I think some mobile devices

transmit better than others - e.g. my Dell Venue tablet (Windows) cuts out if I go around

a corner, but in the same location my Galaxy Tab Pro (Android) stays connected. It's also

useful if guests want to stream music to my system. Note that only one device can stay

paired to the Nyrius so if you have your tablet lying around (and it's connected), but

then you decide to stream from your laptop, you have to unpair the tablet or turn off its

Bluetooth radio to let the laptop connect to it.
- Verified purchase from Nyrius trusted store. -


Vinny

5

Officedog

November 4, 2015

I have a pretty big house (3000 sq feet). I wanted a way to work in one room and then move to another room without having to hook up my mp3 player each time. The Nyrius was a simple set up: pair the receiver with my iphone then plug into my stereo. I have a Sony media player (non-bluetooth) in the kitchen. Three rooms away is the Nyrius. When I'm in the living room, all I have to do is power on the Nyrius and I get music through my stereo.

There is a caveat: As stated by a few, you'll want a decent line of sight. As stated, mine is three rooms away (25-30 feet). My iPhone is on my far kitchen counter at an angle pointed mostly at a door. The Nyrius is two rooms away just around the corner in the living room. There aren't any other electronics in the direct line of sight but there are computers off to the side (I don't know if that makes a difference, but I know it can with other bluetooth items). It plays just fine. If I move the system so it's not *just* around the corner (say, more towards the middle of the living room wall so there are two/three full walls in between), the sound gets choppy. That's why I'm giving it only four stars.

Another thing to remember is that you'll want to turn it off when done listening to music. If you have it plugged into your iPhone as I do, the Nyrius will pick up all of your calls and blast them through the house! This does, though, show that it works well through ceilings/floors, as I was upstairs and could hear my call being broadcast below into the living room.

For the price, it's a great little system. It's small. It's easy to set up. It works over a decent area as long as there aren't too many walls in its way.
- Verified purchase from Nyrius trusted store. -


Officedog

4

yesD

November 4, 2015

Discovery and pairing with Galaxy 4S was immediate. Streaming without hiccups. But when switching to direct connection from phone's 3.5 mm to amp's input for comparison, the sound quality had noticeably improved. Bluetooth is Bluetooth, aptX or not. Definitely worth its money, but beware sound quality.
- Verified purchase from Nyrius trusted store. -


yesD

4

Long-Suffering Technology ConsumerTOP 100 REVIEWER

November 4, 2015

The Nyrius Songo HiFi wireless Bluetooth receiver is an excellent option for delivering

content from a Bluetooth-enabled source to an A/V receiver without integrated Bluetooth

capability of its own.

The Songo HiFi offers multiple connection options to completed the data stream from

Bluetooth source via the Songo:
-Toslink optical (cable not included)
-3.5mm aux stereo (cable included)
-RCA (via included aux-RCA adapter)

The Songo immediately recognized both an HTC Evo LTE 4G and an Ipod nano (7th generation),

and pairing was nearly immediate for both devices, and delivered the source device content

to the connected A/V receiver.
- Verified purchase from Nyrius trusted store. -


Long-Suffering Technology ConsumerTOP 100 REVIEWER

5

Matt G

November 4, 2015

I was looking for a way to reduce the number of wires I hook to my phone to play music and

podcasts in the car. I often use a charging cable, but also had to hook up an audio cable.

Now I can leave the phone in my pocket if I don't need a charge. It connects automatically

a couple seconds after the car starts. I got a usb-to-barrel connector to power it off a

usb cigarette lighter adapter, and it stays hidden in my console out of sight.

The volume is pretty good, and the fidelity is as good as these old ears can tell in my

car. I like this thing.

Would buy again at sale price for sure. Would buy again at regular price if I needed

another one for another car.
- Verified purchase from Nyrius trusted store. -


Matt G

5

Windy City

November 4, 2015

I was provided an evaluation unit to play with and test. The Songo HiFi has perfectly

solved my problem of trying to play music from my computer/phone/tablet on my main stereo

receiver. The product comes with the power supply and cabling to hook up via RCA

(black/red) cables. I opted for an optical hookup which I would highly recommend. Setup

was a breeze both with physically connecting to my stereo and pairing with my bluetooth

devices. The box itself is small and is virtually invisible in my cabinet. Sound quality

is awesome.

I would easily recommend this product. It's a winner.
- Verified purchase from Nyrius trusted store. -


Windy City

5

Antnee from Evanston

November 4, 2015

This little device is outstanding. I have it hooked up to a low-to-mid grade Denon

receiver using an optical cable. Now, instead of trying to configure Windows 7 and our

XBox 360 to stream our music collection from a downstairs hard drive on our home network

(a constant source of frustration recently), I can use Google Play Music to stream the

collection from my Motorola Moto X. Pandora too.

The sound quality is phenomenal, and the connectivity is reliable. Only a blip or "skip"

every so often, probably attributable to my phone instead of the Songo. The build quality

seems nice too. The box is plastic, but solid, and all the connections are right-on.
- Verified purchase from Nyrius trusted store. -


Antnee from Evanston

5

RJ

November 4, 2015

Bluetooth connection between Kindle Fire HDX & Nyrius Songo. Digital optical cable between

Nyrius Sonfo & 2 yr old Panasonic Sound-bar. Seems to work very well most of the time with

great sound. Some drop of signal intermittently. Nyrius Songo is close to my router/WiFi &

I'm guessing that interference between the devices is the cause of the "drops". Moved some

power cords around today, turned off router/WiFi, turned off WiFi on Kindle & played some

music. Sounded great with NO drops in signal. Will continue with this setup to see if this

is permanent fix or not. If not, maybe something else is causing the intermittent signal

drops.
- Verified purchase from Nyrius trusted store. -

See all reviews

RJ

5